Ashcroft

For over 150 years, Ashcroft® instruments have set the standards for accuracy, quality, and dependability in pressure and temperature measurement. Ashcroft pressure gauges are specified and trusted around the world for the most demanding requirements in chemical processing, oil refineries, power plants, pharmaceutical, food, and industrial equipment applications.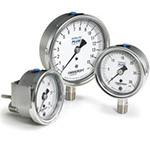 Gauges
Ashcroft produces a wide variety of gauges including process gauges, industrial gauges, commercial gauges, test gauges and more. These products are used for a wide range of applications across numerous markets and industries. Like all Ashcroft products, their gauges are known for their reliability, safety and performance.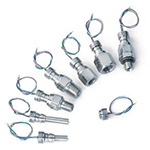 Sensors
Ashcroft boasts a proven line of sensor technologies that can be adapted to meet all sorts of industrial challenges. They produce a wide variety of transducers, transmitters, panel meters and other devices that combine ruggedness with versatility. Ashcroft's tried and true sensor technology eliminates signal instability and drift, meaning their products will be 100 percent reliable in a wide range of applications.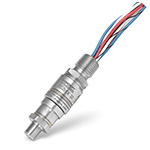 Switches
Ashcroft produces a wide variety of switches including pressure switches, differential switches and temperature switches. These products are known for their reliability and long cycle life, and are designed to meet a wide range of challenges in all sorts of OEM and industrial applications. For unparalleled safety and accuracy, even in harsh and hazardous settings, relying on Ashcroft switches is the way to go.