AC Drives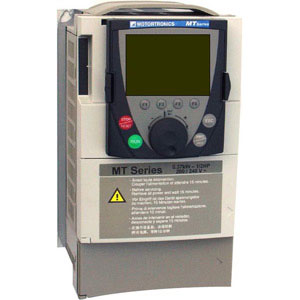 Motortronics AC drives offer precise speed and torque control of AC induction motors for any level of application ranging from simple fan or pump control to precise winder control.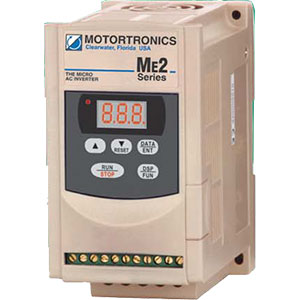 ME2 Series
Motortronics ME2 Series is a compact AC drive that, depite its small size, has the features you need. With 150% overload capacity for one minute, the ME2 Series is fully rated and fully protected. Protection features include UL listed solid state overload, overvoltage, undervoltage, power loss ride-thru, stall prevention, short circuit, ground fault protection and heat sink overtemp sensing. Designed to perfom, the ME2 Series offers FWD and REV inputs, plus two multi-function inputs which can be programmed for job, emergency stop, reset and preset speed. A multi-function N.O. relay output contact is available for indicating fault, at speed/frequency or run. Even DC injection braking is standard in the ME2 Series. The ME2 Series takes up less panel space than other drives in its class and, with single phase power input as standard, wiring time is minimal. All of the wiring terminals are easily accessible without removing any covers, yet "finger safe" to meet IEC standards.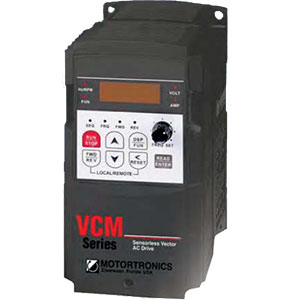 VCM Series
Motortronics VCM Series is a compact, cost-effective drive with features typically found only in more complex and expensive AC drives. This full featured sensorless vector drive is recognized for being simple to set up, program and operate. Available in ratings from 0.5 to 75HP, the VCM Series is ideally for nearly any application. Wiring the VCM Series drive to your motor is easy. Simply decide how you want to control it, how the field connections should be terminated and program the drive to suit your needs. The convenient operator panel provides simple, yet informative interface during setup and operation. The tactile feedback keypad is used for programming the drive and motor speed can be controlled using either the keypad or the handy, built-in potentiometer. The alphanumeric display indicates operation, status and fault read-out and is easily visibile in low ambient light conditions. In addition, LED indicators provide direction of rotation, operating status and drive output information. An optional two-line LCD display is available.