Since 1946, WIKA Instrument Corporation has been advancing the world of pressure, temperature, and level measurement instrumentation. The company's product line is ideal for a variety of applications within the petrochemical, power generation, process, sanitary, medical, semiconductor, and wastewater industries. Utilizing nothing less than state-of-the-art equipment and manufacturing technology, WIKA products set the standard for precision, dependability and technology.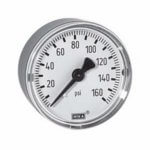 Gauges
WIKA's pressure gauges for gauge, absolute and differential pressure in analog and digital styles have been proven millions of times over. For the various requirements in industrial and process instrumentation there are pressure elements from copper alloys, stainless steel or special materials available.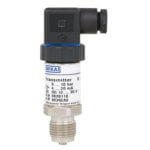 Sensors
WIKA's sensors cover a wide spectrum of pressure sensors: for refrigeration and air-conditioning applications, the food industry, mobile working machines, medical gases and the semiconductor industry. WIKA can also build custom sensors to meet your specific needs.