Chromalox STRS .475" Dia. Round Cross-Section Single End Terminal Tubular Heater
Chromalox STRS .475" Dia. Round Cross-Section Single End Terminal Tubular Heater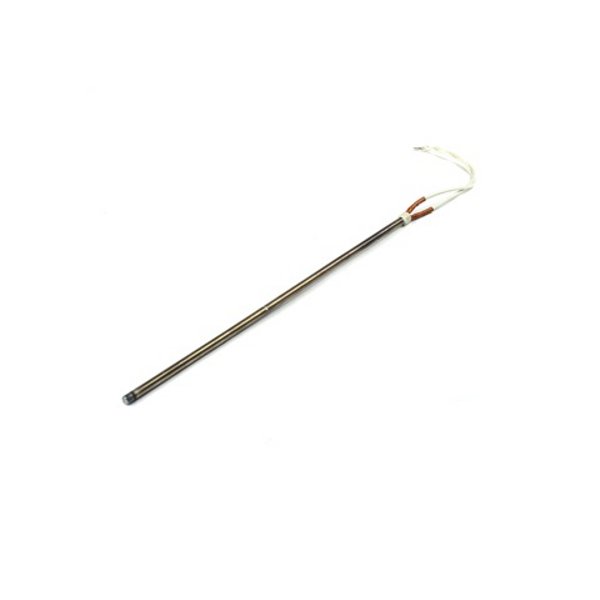 Product Type:

Tubular Heater

Manufacturer:

Chromalox

Product Family:

Model STRS

Heater Application & Type:

Round Cross-Section

Max. Working Temperature:

750°F

Sheath Diameter:

0.475 in.

Sheath Material:

Steel

Shape:

Round
Chromalox STRS .475" Dia. Round Cross-Section Single End Terminal Tubular Heater, 120V, 1325W, 17W/sq.in. watt density, 0.475" round dia., 55-7/8" steel sheath, single-end term., 750°F max. working temp.
Product Description
STRS-475 Round Cross-Section Single-End TerminalDescription
Single Ended Tubular Heating Elements are of similar construction as our standard tubular elements. They terminate at one end which can simplify wiring and installation. These are most commonly used in molds and other heat transferring metal parts as well as open air applications and immersion applications.
Features
Construction — Similar to the standard Chromalox tubular heater design, except that both terminals of the embedded resistor wire are at one end of the element. 10" lead wires have silicone-impregnated Fiberglas® sleeves and are attached to the terminals inside a ceramic terminal bushing.
Sealed End for Immersion Heating on end opposite terminals is provided on all stock, single-end elements. When ordering nonstock elements for use as immersion heaters, specify "sealed end".
Work Temperatures — See Tubular Heater Overview section.
Bending — Generally not recommended for single-end elements.
Dimension Drawing