168CA-4-2 Parker Compress-Align Fittings 168CA Gage Tee
168CA-4-2 Parker Compress-Align Fittings 168CA Gage Tee
In Stock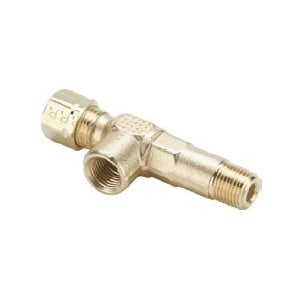 Refine Search:

Tee

Product Type:

Connector

Manufacturers:

Parker Fluid System Connectors

Product Family:

Compress-Align Fittings

End 1 Size:

1/4 in.

End 1 Type:

Tube Fitting

End 2 Size:

1/8 in.

End 2 Type:

MNPT

End 3 Size:

1/4 in.

End 3 Type:

Tube Fitting
Parker Compress-Align® Fittings Gage Tee 168CA, Low Pressure Fitting Tee, Tube to Pipe 1/4 x 1/8, Compression, 1400, Brass.
Product Description
Compress-Align Fittings
No flaring, soldering or other preparation of tubing is necessary. Preassembled fitting, with captive sleeve. Sleeve is always oriented for correct installation, visible for inspection before and after installation.

Assembly Instructions:
With nut finger tight on fitting body, insert tubing until it bottoms in the fitting. Complete the seal with one wrench turn on all sizes.
Dimension Drawing