Actril Cold Sterilant 4x1 Gallon
176-02-043 Actril Cold Sterilant 4x1 Gallon
In Stock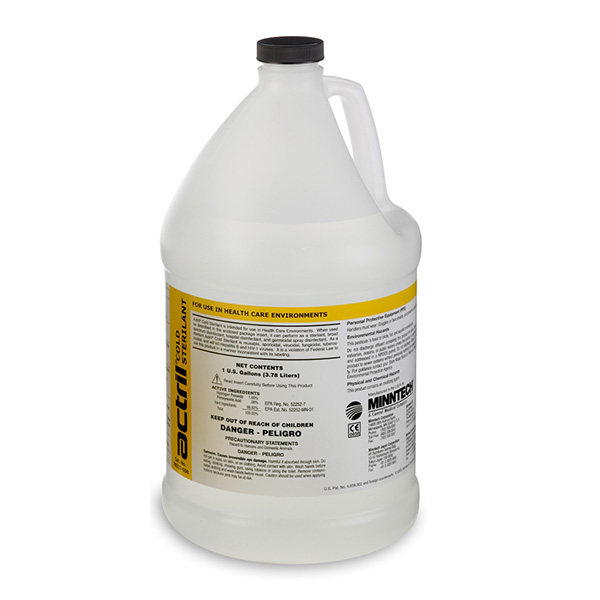 Product Type:

Sterilant

Product Family:

Actril

Quantity:

4x1 Gallon Case

Refine Search:

Sterilization Parts & Accessories
Actril's Cold Sterilant 4x1 Gallon case is an effective, ready-to-use disinfectant and sterilant for hard surfaces commonly found in pharmaceutical cleanrooms. Surfaces made from nonporous materials such as plastics, stainless steel or glass can be disinfected using Actril Cold Sterilant solutions.
Product Description
Effectiveness
Actril Cold Sterilant is a powerful disinfectant containing a proprietary mixture of 0.08% peracetic acid and 1.0% hydrogen peroxide. It is effective against a broad spectrum of organisms, including bacterial spores, fungal spores, bacteria, mycobacteria, yeast, molds and viruses. Actril Cold Sterilant is not a systemic bactericide. Rather it is a powerful oxidizer that attacks and breaks down the organic components of microorganisms, not just killing them, but destroying their structure. This makes Actril Cold Sterilant one of the fastest acting and most effective disinfectants available.
Standard Features
Effective in the presence of 5% blood serum.
Superior Sporicidal, Bactericidal, Fungicidal, Mycobactericidal and Virucidal Activity
Does Not Produce Any Toxic Aldehyde Vapors, Keeping Your Employees Safe
Compatible with all Common Cleanroom Surfaces.
Easily Disposable and Biodegradable, Keeping the Environment Safe
Filtered through 0.2 micron filters
Acrtril Cold Sterilant Material Compatibility
Actril Cold Sterilant has been tested and shown to be compatible with material coupons and medical devices made from the materials shown below:
Metals: Stainless Steel (316), Aluminum Alloy (6061)
Plastics: Polypropylene, Teflon, Acrylonitrile-butadienestyrene (ABS), Polyethylene, Polyvinylchloride (PVC), Polycarbonate, Tygon
Elastomers: Silicone Rubber
Other materials not listed should be tested for compatibility prior to use
Safety & the Environment
Actril Cold Sterilant, is extremely eco-friendly because Actril's raw materials are not listed as carcinogenic or mutanagenic materials, does not produce toxic vapors, and is safe for the environment. It is completely biodegradable and will decompose into oxygen, water and acetic acid.*

*Unused ACTRIL Cold Sterilant is acidic and requires normal neutralization as specified by local regulations. ACTRIL has a pH of 1.5 to 2.0.
Efficacy of Actril Cold Sterilant

Related Videos
Actril Cold Sterilant 176-02-043
Video Transcript:
Actril Cold Sterilant is an industrial, EPA registered disinfectant that is a mixture of 1% hydrogen peroxide and zero-point zero eight percent peracetic acid. It is designed for disinfecting surfaces in commercial environments such as hospitals, clean rooms, labs, schools, factories, and offices.
Actril Cold Sterilant's 4-gallon product offering ships in four 1-gallon containers.
The disinfectant is ready-to-use out of the bottle and can be applied to metals, plastics, or elastomers. Actril is not for use on brass or copper surfaces.
Be sure to follow these simple guidelines before applying Actril to any surface. After spraying the product on surfaces, use a cloth to evenly distribute the product. Make sure to leave the surface wet so it can air dry.
Actril is bio-degradable and requires no special disposal instructions. It can even be poured down the drain. Actril produces no toxic vapors unlike alcohol-based disinfectants. Rather, it produces a temporary vinegar-like smell which is not harmful to inhale.
Actril disinfectant can be used to effectively kill the following microbes at the listed efficacies.
Actril Cold Sterilant's shelf life is 1 year in the original unopened bottle. It will last up to 5 days when poured over ChemFlex wipes and up to 14 days in a reusable soaking station. Actril Indicator Test Strips are recommended for ensuring a minimum of 500 parts per million effective concentration.
Recommended Products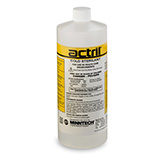 176-02-046
Customer Part #: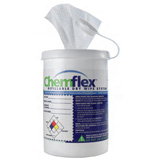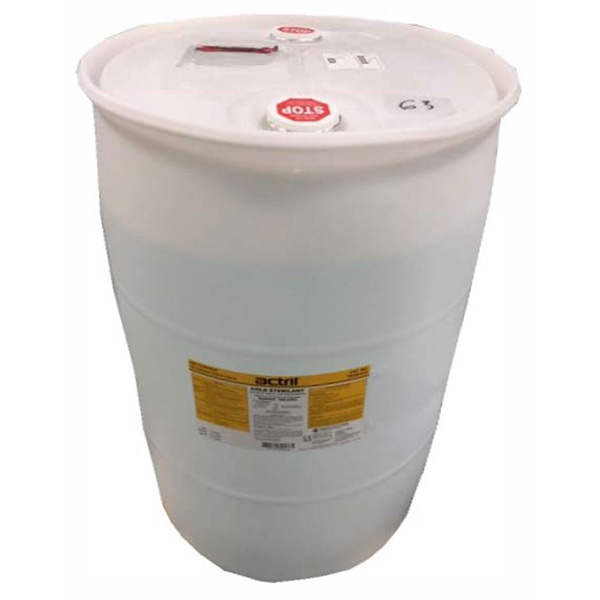 176-02-045
Customer Part #: