ABB Low Voltage Ring Lug Terminal Block
1SNA510003R0000 ABB Low Voltage Ring Lug Terminal Block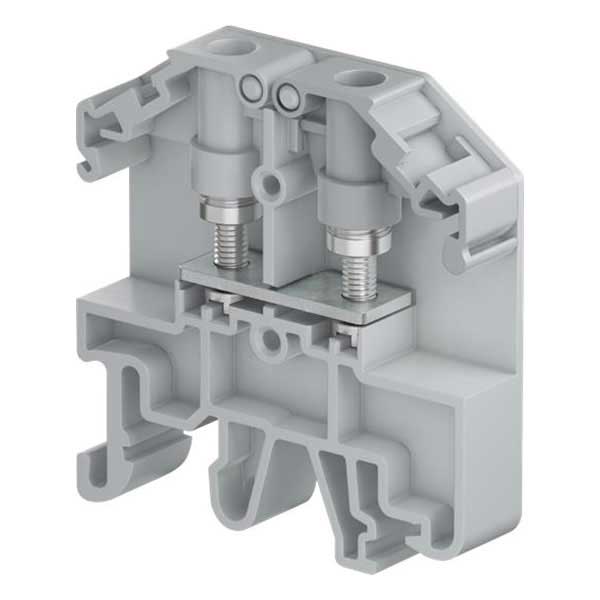 Product Type:

Ring Lug Terminal Block

Color:

Gray

Connecting Capacity:

14 AWG

Insulating Material:

Polyamide

Max. Operating Temperature:

212 F

Max. Operating Voltage:

600V

Min. Operating Temperature:

-40 F

Rated Current:

24A

Rated Voltage:

800V

Spacing:

0.354 in
1SNA510003R0000 ABB SNA Series Ring Lug Terminal Block, feed through, universal mounting on symmetrical / asymmetrical rails, integrated captive nuts, gray Polyamide, 0.354 in (9mm) spacing, 14 AWG connecting capacity, 800V rated voltag, 24A.
Browse All SNA Series Products
Product Description
The
SNA Series
is a well known historical range, available in screw clamp and stud technologies with a large choice of sections and colour variants. It is qualified for standard and power applications up to 300 mm2 (1000 kcmil).
BENEFITS
Ease the identification of functions inside cabinet thanks to large range of colored variants
The SNA connection technologies (screw clamp, and stud) eliminate the need for retightening campaigns thanks dedicated anti-release system
Avoid mounting and wiring errors thanks to asymmetrical design
Allow installation flexibility with extra mounting options such as TS32 rail, panel or plate
50% faster assembly time thanks to the locking pin- 10 pre-assembled blocks plugged-in on rail at a time
Elimination of faulty maneuvers thanks to screw-type jumper bars
FEATURES
Connecting capacity from 0.2 to 300 mm² (22 AWG to 1000 kcmil)
Technologies- screw clamp, stud
Available functions- feed-through, ground, disconnect, fuse, single to triple deck, test and measurement
Power stud range available with stud-stud or stud-screw clamp technologies