Neles (Metso) Jamesbury Eliminator 2000 CWP Rated Threaded Ball Valve
2 9FB-2236XTB Neles (Metso) Jamesbury Eliminator 2000 CWP Rated Threaded Ball Valve
In Stock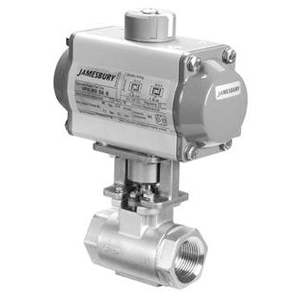 Actuation:

Lever Handle

Ball Material:

316 Stainless Steel

Body Material:

Carbon Steel

End 1 Size:

2" FPT

End 1 Type:

FNPT

Handle Material:

Zinc-plated Carbon Steel

Seal Material:

TFM

Seat Material:

Xtreme

Stem Material:

316 Stainless Steel
Neles (Metso) Jamesbury Eliminator 2000 CWP Rated Threaded End Standard Service Ball Valve, Fire-Tite, 2" FPT, Carbon Steel Body, 316 SS ball/stem, Xtreme seats, TFM seals, Zinc-Plated Carbon Steel handle, Model B.
Browse All Series Eliminator Products
Product Description
Jamesbury Eliminator™ ball valve, brings you the performance and design features you've been looking for – all in a single, low-cost valve. This ball valve's unique design offers fire-test specifications, rugged actuator mounting and flexible-lip seats for application versatility that surpasses other ball valves. The Eliminator™ ball valve is available in ¼ in. – 2 in. (DN 8-50) sizes in two versions. The first is rated by the traditional approach for threaded end valves. This approach determines Cold Working Pressure (CWP) based on paragraph UG101 of the ASME Boiler and Pressure Vessel Code. The second version is rated according to ANSI Standard B16.34. This rugged ANSI design meets all of the requirements of ANSI B16.34 and may be used in ANSI piping systems without compromising ANSI piping codes. Both designs are available in carbon and stainless steel and are rated for steam applications with Xtreme® (X), and PTFE (T) seats.
Features
Robust engineering design
Self relieving seat technology
Patented stem seal technology
ISO compliant bonnet
Efficient mounting program for all types of actuators
High quality
Benefits
Very long service life
Bi-directional in hazardous media service
Low fugitive emissions
Bubble tight shut off
Automatable
Dimension Drawing