Fairchild Products Model 200 Pneumatic Volume Booster 1:1 ratio
200112N Fairchild Products Model 200 Pneumatic Volume Booster 1:1 ratio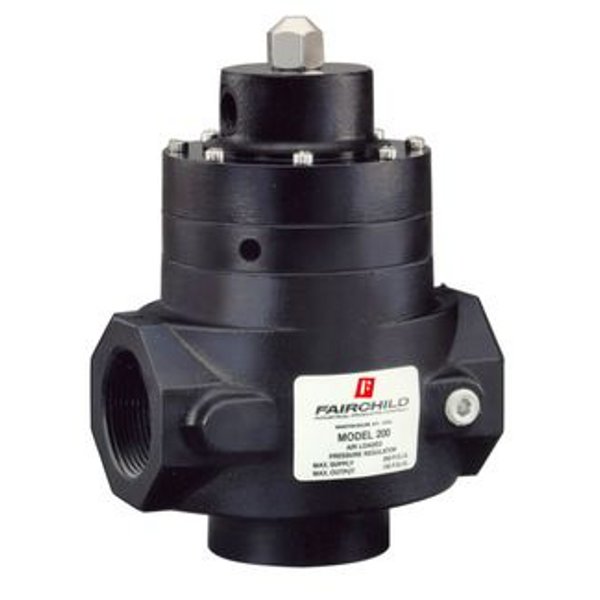 Product Type:

Pneumatic Volume Booster

Accuracy:

0.50 psi

Sensitivity:

1 in WC

Supply Pressure:

250 psi

Pressure Range:

0-150 psi

Flow Capacity:

1800 SCFM

Pipe Size:

1.5 FPT

Body Material:

Aluminum

Elastomer:

Nitrile on Dacron

Ambient Temperature:

-40 F (-40 C) to 200 F (93.3 C)

Base Model:

20012

Exhaust Capacity:

65 SCFM [110.5m3/Hr] where downstream pressure is 5 psi above 20 psi setpoint

Exhaust Type:

Straight (standard)

FlowCv:

18

Mounting:

Line

Operator:

Pneumatic pilot signal

Options:

[N] Non-relieving

Ratio:

1:1

Flow Capacity:

1800 SCFM (3058 M³/HR)

Max. Output Pressure:

150 PSIG

Max. Supply Pressure:

250 PSIG

Signal to Output Pressure Ratio:

1:1
Fairchild Model 200 Pneumatic Volume Booster, 1:1 ratio, 250 psi [17 BAR] supply, 1800 SCFM [3058m3/Hr]@150 psi supply/20 psi set, 150 psi [10 BAR] max output, 1.5 FPT line, 1/4 FPT gauge, 1/4 FPT signal, Nitrile on Dacron, non-relieving.
Product Description
The Rotork Fairchild Model 200 Pneumatic Volume Booster reproduces a pneumatic signal in a 1:1 ratio. It is ideally suited for systems that require input isolation or increased forward flow capacity. This device uses a force balance system to control the movement of the supply and exhaust valves. With its a pilot operated regulator design, the M200 handles up to 250 psig [17 BAR] (1700 kPa) supply pressure and provides a flow Ultra high Flow capacity of 1800 SCFM [3058m3/Hr], which equates to a Cv factor of approximately 18 in forward flow mode.
Ultra fast responsive operation
Allows use in precision applications
Isolates the diaphragm from the main flow to eliminate hunting and buzzing
Provides more precision control at low setpoints
Easy installation in the field
Allows servicing the Model 200 using Service Kit without removal from line
Certification for use in all Canadian territories and provinces
NOTES:
Oil free air must be applied to the regulator. Use a filter to remove dirt and entrained liquid in the air line ahead of the regulator. If an air line lubricator is used, it MUST be located downstream of the regulator, to avoid interference with regulator performance.
Dimension Drawing