SYMCOM 3-Phase Voltage Monitor w/OT08PC
SYMCOM 3-Phase Voltage Monitor w/OT08PC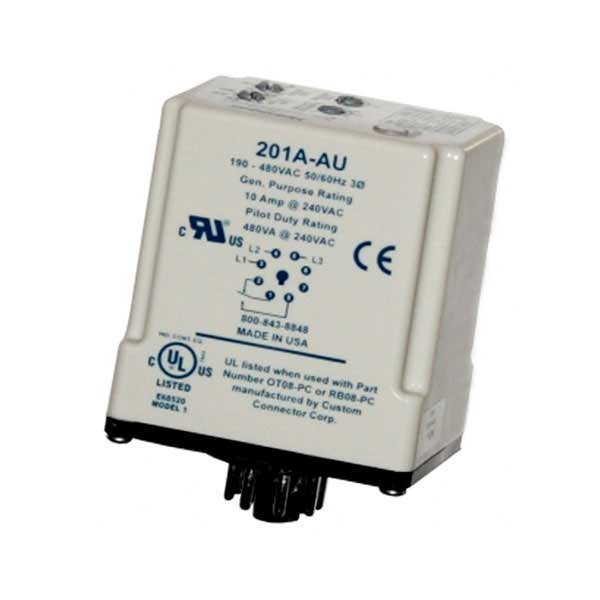 Manufacturer:

Littelfuse

Product Family:

SYMCOM

Product Type:

Voltage Monitor

Frequency:

50/60Hz

Input Voltage:

475-600VAC

Max Operating Temperature:

158 F

Min Operating Temperature:

-40 F

Mounting Method:

DIN Rail or Surface Mount

Output Form:

SPDT

Output Load Rating:

10A @ 240VAC

Output Load Rating Pilot Duty:

480VA @ 240VAC

Overvoltage Reset Voltage:

107%

Overvoltage Trip Voltage:

110%

Restart Delay Range:

Manual 1-500s adj

Trip Delay Range:

Over/Under/Unbalanced 1-30s adj; single-phasing faults 1s fixed

Trip Point Accuracy:

+/-1%

Undervoltage Reset Voltage:

93%

Undervoltage Trip Voltage:

90%

Voltage Unbalance Reset:

Trip setting minus 1% (5-8%) or Trip setting minus 0.5% (2-4%)

Voltage Unbalance Trip Point:

2-8% adj
SYMCOM 201A AU Series 3-Phase Voltage Monitor w/OT08PC Socket, auto-sensing voltage range, adjustable trip & restart delay settings, 475-600 VAC 50/60Hz, SPDT, 5W, 480VA @ 240VAC pilot duty, 10A @ 240VAC gen purpose, DIN rail or surf mount, LED indicator.
Product Description
The 201A-AU is a 3-phase, auto-ranging, dual-range voltage monitor that protects 190-480VAC, 50/60Hz motors regardless of size. Has user adjustable 1-30 second trip delay, manual or 1-500 second restart delay, and 2-8% voltage unbalance trip point.
The product also provides a user selectable nominal voltage setpoint and the voltage monitor automatically selects between the 200V and 400V range. The Model 201A-AU includes advanced single LED diagnostics, where five different light patterns distinguish between faults and normal conditions.
This unique microcontroller-based voltage and phase-sensing device constantly monitors the 3-phase voltages to detect harmful power line conditions. When a harmful condition is detected, the 201A-AU's output relay is deactivated after a specified trip delay. The output relay reactivates after power line conditions return to acceptable levels.