201A SYMCOM 3-Phase Voltage Monitor
201A SYMCOM 3-Phase Voltage Monitor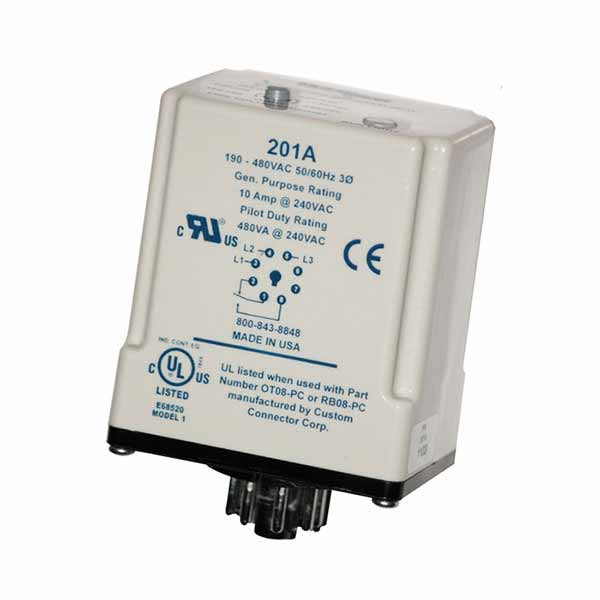 Product Type:

Voltage Monitor

Manufacturers:

Littelfuse

Product Family:

SYMCOM

Frequency:

50/60Hz

Input Voltage:

190-480VAC

Max Operating Temperature:

158 F

Min Operating Temperature:

-4 F

Mounting Method:

DIN Rail or Surface Mount

Output Form:

SPDT

Output Load Rating:

10A @ 240VAC

Output Load Rating Pilot Duty:

480VA @ 240VAC

Restart Delay Range:

2s

Trip Delay Range:

Under/Over Voltage 4s; Unbalance/phasing faults 2s

Trip Point Accuracy:

+/-1%

Undervoltage Reset Voltage:

93%

Undervoltage Trip Voltage:

90%

Voltage Unbalance Reset:

4.5%

Voltage Unbalance Trip Point:

6%
SYMCOM 201A Series 3-Phase Voltage Monitor, auto-sensing voltage range, 190-480 VAC 50/60Hz, SPDT, 5W, 480VA @ 240VAC pilot duty, 10A @ 240VAC gen purpose, DIN rail or surface mount, LED visual indicator.
Product Description
The 201A is a 3-phase, auto-ranging, dual-range voltage monitor that protects 190-480VAC, 50/60Hz motors regardless of size.
The product provides a user selectable nominal voltage setpoint and the voltage monitor automatically selects between the 200V and 400V range. The 201A includes advanced single LED diagnostics, where color and different light patterns distinguish between faults and normal conditions.
This unique microcontroller-based voltage and phase-sensing device constantly monitors the 3-phase voltages to detect harmful power line conditions. When a harmful condition is detected, the 201A's output relay is deactivated after a specified trip delay. The output relay reactivates after power line conditions return to acceptable levels.