Sentrol Magnapull Pull-Apart Cord
2105A-G Sentrol Magnapull Pull-Apart Cord
In Stock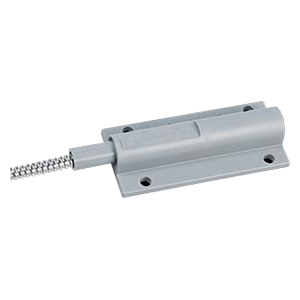 Refine Search:

Safety Switches

Product Type:

Pull Cord
2105A-G Sentrol 2100 Series Magnapull Heavy-Duty Magnetic Pull-Apart Cord, normally open, 3 ft stainless steel armored cable lead, gray, surface mounted.
Browse All 2100 Series Products
Product Description
2105A-G 2100 Series heavy duty magnetic pull-apart cords are used to protect valuable free-standing items that are stored outdoors. The high-impact plastic housing protects the contact from corrosion or high resistance buildup. End users simply insert the cable into the contact housing; there is nothing to line up. An alarm condition is created when the cord with the magnet is pulled from the housing.
FEATURES
Durable, high-impact plastic housing designed for long life
Installs easily and quickly
Protects free-standing, highvalue items