Chromalox CIR 1/2" Dia. Cartridge Heater
Chromalox CIR 1/2" Dia. Cartridge Heater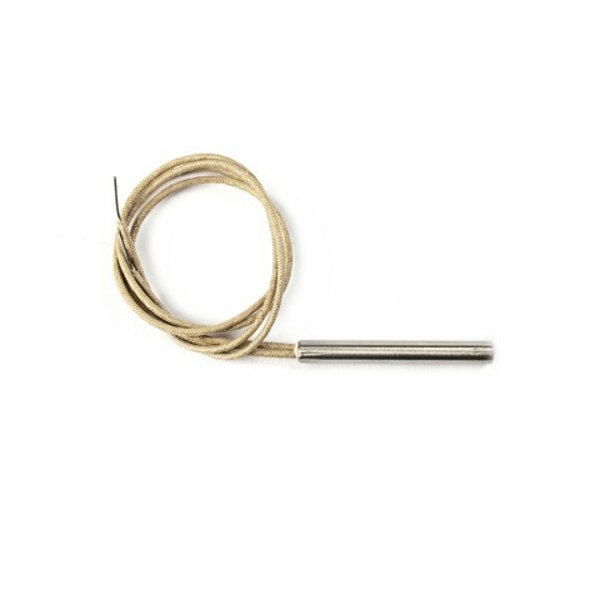 Product Type:

1/2" Dia. Cartridge Heater

Manufacturer:

Chromalox

Product Family:

Model CIR

Diameter:

1/2 in.

Heater Length:

2-3/8 in.

Max. Working Temperature:

1000°F

Sheath Length:

2-3/8 in.

Sheath Material:

Incoloy

Voltage:

240V

Wattage:

75W
Chromalox CIR 1/2" Dia. Cartridge Heater, 240V, 75W, 26W/sq.in. watt density, 1/2" diameter, 2-3/8" Incoloy sheath, air set cement (1000°F max) terminal seal, 14" leads, 1000°F max. working temp.
Product Description
CIR 1/4 - 3/4" Dia. Cartridge Heater
1/4, 3/8, 1/2, 5/8, and 3/4" Dia.
50 - 5,000 Watts
120 and 240 Volt
1-1/4 - 48" Sheath Lengths
INCOLOY® Sheath
Third-party certifications: UL Recognized, CSA
Features
Leads can be bent at right angle near the heater without exposing bare wire, therefore eliminating electrical shorts.
Sheath Material — Type CIR cartridge heaters are made with a high-temperature INCOLOY® sheath material.
High Temperature Leadwire — Up to 842°F (450°C).
Lead Length — Type CIR cartridge heaters are stocked with 14" long leads. Longer lead lengths can be readily spliced on.
Chromalox CIR industrial heaters are available in a variety of commercial heating applications: dies and molds, packing machinery, laminating/adhesives, hot glue melting, lead melting, medical, extruding dies, and stamping and marking machines. Type CIR includes several significant advances in cartridge heater technology. Its high performance characteristics have been proven, not only in the laboratory, but also on customers' equipment on selected problem applications, at 1500°F and higher operating temperatures.
Dimension Drawing