Chromalox FTS .475" Dia. Fintube Heater
Chromalox FTS .475" Dia. Fintube Heater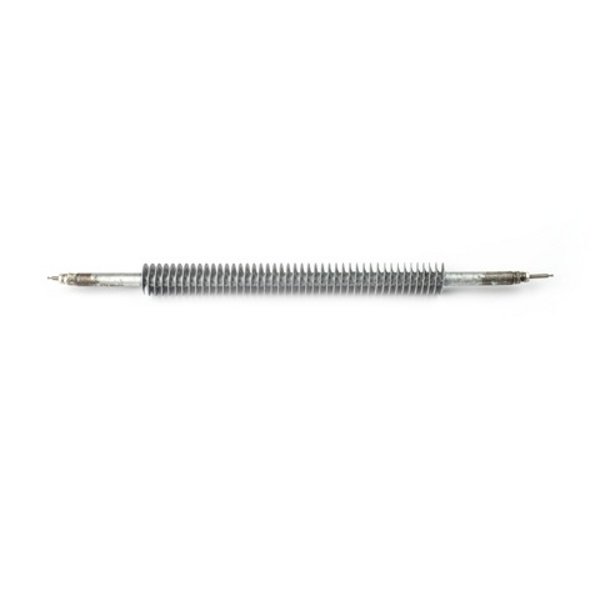 Product Type:

Fintube Heater

Manufacturer:

Chromalox

Product Family:

Model FTS

Heater Application & Type:

Process Air

Sheath Length:

63 in.

Sheath Material:

Steel

Wattage:

5000W
Chromalox FTS .475" Dia. Fintube Heater, 480V, 5000W, 60W/sq.in. watt density, .475" dia. finned tube, 63" steel sheath, single phase, 750°F max. sheath temp., Type 4 terminals
Product Description
FTS-475 Fintube Heaters
Steel Sheath
120, 240 and 480 Volt
60 W/In²
750°F Max. Sheath Temp.
475 - 10, 000 Watts (Dia. 0.475")
Third-party certifications: cRUus, CSA
Applications
Best suited for the following applications where space is limited.
Drying
Heat Tracing
Annealing
Load Banks
Curing Ovens, Dryers, Ducts, etc
Features
Type 4 Terminals — Standard. Integral parts of the element are of high strength to resist bending during tightening of the wiring connections. Type 4 terminal is a threaded extension of the cold pin. See standard terminal detail in the FT Series Overview.
Work Temperatures — See Allowable Watt Density & Heater Selection Graphs G-151 through G-156 in Technical section of this catalog.
Dimension Drawing