4F-Q4CY-SSP Parker CPI/A-Lok Series Instrumentation Couplings
4F-Q4CY-SSP Parker CPI/A-Lok Series Instrumentation Couplings
In Stock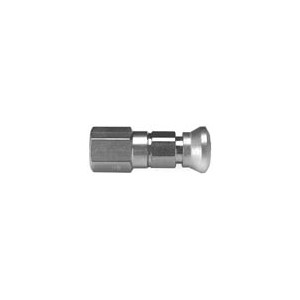 Refine Search:

Straight

Product Type:

Coupling

Manufacturers:

Parker Instrumentation

Product Family:

CPI Series

Body Size:

1/4 in.

Port Connection:

FNPT

Port Size:

1/4 in.
Parker CPI Series Instrumentation Coupling, 1/4 316 stainless Steel coupler (female half), 3000 psig rating, 1/4" FNPT ends, Viton seal, Ulti-Mate sleeve
Product Description
The Parker CPI/A-lok Series high integrity quick coupling design can be used in modest vacuum (50 millitorr) as well as pressures to 3000 psi. The CPI/A-lok Series is 100% leak tested to an integrity of 1x10(-6) cc/sec max, and is available in a choice of either CPI single ferrule or A-lok double ferrule tube fittings. These quick couplers do not contain any solid lubricants that can contaminate samples and give faulty analyzer readings.
Brass and stainless Steel in body sizes 1/4", 3/8" and 1/2"
Double shut-off or single shut-off designs
Simple push-pull action to connect and disconnect lines (no tools required)
Reliable, leak-tight O-ring seal for vacuum or pressure systems
Poppet valves automatically open upon connect, and close when disconnected
Valve guide positively aligns valve with seat to prevent leakage
Durable ball-locking mechanism assures reliable connection
Dimension Drawing