TrueSeal Thermoplastic Elbow Union
TrueSeal Thermoplastic Elbow Union
In Stock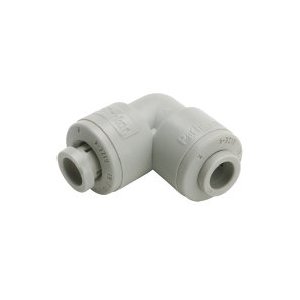 Parker TrueSeal™ Thermoplastic Push-In Fittings EU - Elbow Union, Low Pressure Fitting Elbow, Tube to Pipe, 1/2 in, Push to Connect, Acetal, 90°, Gray Color, Temp Range -20°F (-29°C) to +180°F (85°C), EPDM O-ring, NSF-51 listed.
Product Description
Dimension Drawing
TrueSeal™ Thermoplastic Push-In Fittings
An all plastic push-to-connect fitting manufactured from FDA compliant materials and are NSF-51 listed for contact with food. Gray acetal fittings meet NSF-61 requirements for drinking water (potable water) system components. Fittings are light weight, field attachable and connect to tubing without the use of tools. Black nitrile o-rings and colored collets in black, white, red, blue, green, yellow and orange are also available. Consult Division. KYNAR® is a registered trademark of Atochem North America, Inc. *U.S. Patent 5,584,513.
Assembly Instructions:
1. Cut tubing square and clean. (Use a Parker plastic tube cutter, Part No. PTC.)
2. Mark from end of tube the length of insertion (see table right).
3. Push tube into the fitting until it bottoms out.
4. To remove, depress collet and pull tubing out.
5. Use TrueSealant™ (Part No. PTS) on threads