Parker Compressed Air Dryer
Parker Compressed Air Dryer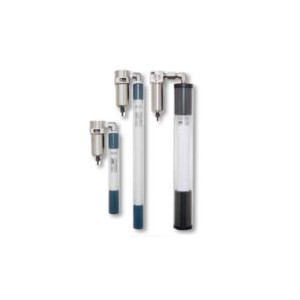 Product Type:

Air Dryer

Manufacturer:

Parker Balston

Product Family:

CD Series

Dimensions:

3 x 15.2 x 2 in.

Dew Point:

-7°F(-22°C)

Port Connection:

1/4 in. NPT

Shipping Weight:

2 lbs (0.9 kg)
Parker Balston Model CD0010, Dryer, Compressed Air Membrane, 1/4" NPT, -7F(-22C) Delivered dewpoint for saturated inlet air at 100F (38C) and 100 psig (6.9 bar), 35F min/120F max (2C min/49C max), 60 psi min/150 psi max (4.1 bar min/10.3 bar max), wall mountable.
Product Description
Balston Cabinet Dryers
The meat and dairy industry demands the ultimate in cleanliness and sanitation in their food preparation areas. These areas are washed down nightly. Every square inch of equipment is sprayed with hot (140°F), high pressure sanitizers. These sanitizers are caustic or acidic depending on the food. Much of the equipment is pneumatically operated but more and more this industry is moving to electronic controls that are housed in "water-tight" NEMA 4x cabinets. Electrical cabinets eventually develop leaks allowing moisture build up on electronic components. The moisture leads to premature component failure. Premature failure of components leads to emergency service and production down time.
Balston Cabinet Dryers are designed to purge the inside of the cabinets with very dry air that eliminates moisture and premature component failures.
Features & Benefits
Designed specifically for wash down areas
Protects electrical cabinet components from damage caused by water and high humidity
Requires no electricity, low operating costs
Protects motors, touch screens, drives and other critical components
Positive pressure keeps dust out
Adds no heat to the cabinet
Easy to install and maintain
Dimension Drawing