Edwards Signaling Booster Power Supply
EBPS6A Edwards Signaling Booster Power Supply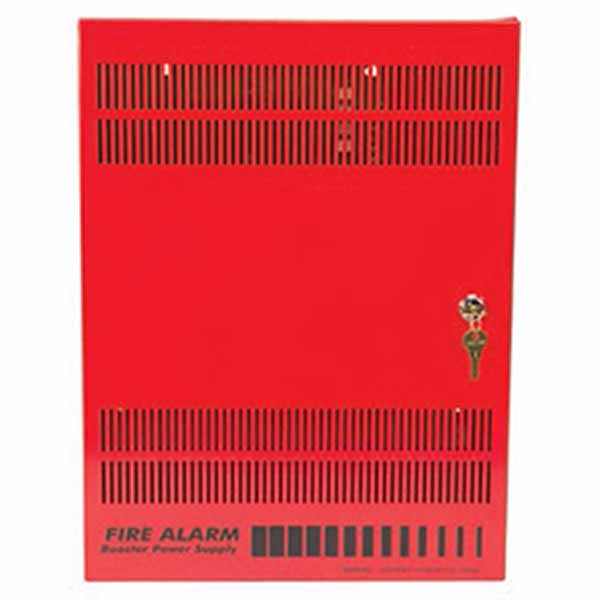 Product Type:

Power Supply

Refine Search:

Fire Safety

Operating Temperature:

32 to 120° F

Operating Voltage:

120VAC

Weight:

14.2 lb
EBPS6A Edwards Signaling EBPS Series Booster Power Supply, 120VAC 6.5 A, 3 A max/circuit @ 24VDC, 4 configurable aux outputs, 32 to 120 F operating temperature.
Product Description
EBPS6A The Edwards EBPS Series Booster Power Supply is UL 864, 9th Edition listed. It is a 24V DC filtered-regulated, and supervised unit that can easily be configured to provide additional notification appliance circuits (NACs) or auxiliary power for Mass Notification/ Emergency Communication (MNEC), as well as life safety, security, and access control applications.
The EBPS contains circuitry to monitor and charge internal or external batteries. Its steel enclosure accommodates up to two 10 amperehour batteries. It has four Class B (convertible to two Class A) NACs that can be activated in one or two groups from its unique dual input circuits.
The EBPS is available in 6.5 or 10 ampere models. Each output circuit has a capacity of three amperes.
FEATURES
Provides for Genesis and Enhanced Integrity notification appliance synchronization
Supports coded output operation
Self-restoring overcurrent protection
Multiple signal rates
Can be cascaded or controlled independently
Easy field configuration
On-board diagnostic LEDs identify wiring or internal faults
Standard Edwards keyed lockable steel cabinet with removable door
Accommodates 18 to 12 AWG wire sizes
Optional tamper switch
Dual battery charging rates
Operating temperature range
Dimension Drawing