Walchem EHE Series Metering Pump 5.5GPH 150psig PVC
EHE31E1-VC Walchem EHE Series Metering Pump 5.5GPH 150psig PVC
In Stock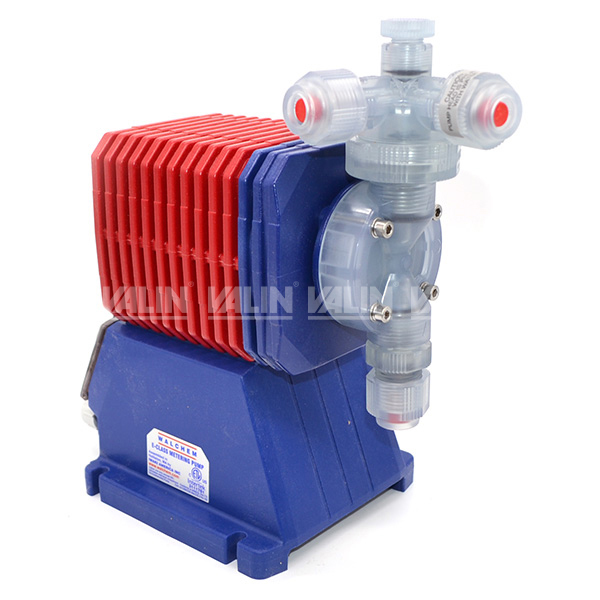 Product Type:

Electronic Metering Pump

Diaphragm:

PTFE/EPDM

Gasket:

PTFE

Max. Output Capacity:

5.5 GPH

Max. Pressure:

150 PSIG

Pump Head:

PVC

Valve Seat:

PCTFE
Walchem EHE Series Metering Pump, solenoid pump, microprocessor control with external pulse capability & manual air vent valve, 5.5GPH @ 150psig max, PVC head/fittings, PTFE/EPDM diaphragm, CE/HC balls, PCTFE seat, FKM seals, PTFE gasket, 1/2 OD PE tube w/o accessory valve, 115/AC, 1.8A, 50/60 Hz, 1 phase, 48W. Use E31VC-PK parts kit.
Browse All EHE Series Products
Product Description
The EHE is the workhorse of the E-Series metering pumps. EHE Series pumps have outputs up to 20 GPH (75 l/h) and pressure capabilities to 150 PSI (10 bar). Combining the EHE performance with a turndown ratio of 1800:1 yields one of the most versatile pumps in the water treatment industry today. Superior mechanical design and quality manufacturing merge to create a pump better than the sum of its parts. The versatile control features enable the EHE to be integrated into virtually any chemical feed application. The 360 strokeper-minute operation results in high resolution chemical feed and long service life. EHE pumps prime in seconds and hold prime reliably.
Dimension Drawing