Barksdale Hydraulic Pressure Regulator
F20495S6WQ2-1 Barksdale Hydraulic Pressure Regulator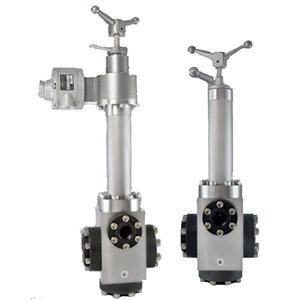 Product Type:

Hydraulic Regulator

Adjustment Type:

Pneumatic Failsafe Motor

Body Material:

Stainless Steel

End Connection:

1/4 in. Threaded x 1/4 in. Threaded

Inlet Pressure:

3000 PSI

Outlet Pressure:

300 to 2800 PSI

Port Size:

1 in.

Size:

22.67 in. L x 6.875 in. W

Spring Material:

Phosphate Coated Alloy Steel

Temperature Rating:

32 to 250 Deg F

Type:

Heavy Duty, Self-Venting

Refine Search:

Hydraulic
Barksdale 20495 Series Hydraulic Pressure Regulator, 1/4" x 1/4", NPT x NPT, 1" Port, 3000 PSI, 70 GPM, Stainless Steel, Pneumatic Failsafe Motor, Heavy Duty, Self-Venting, Hydraulic Pressure Regulator.
Product Description
Hydraulic Pressure Regulator; Type Heavy Duty, Self-Venting; Adjustment Type Pneumatic Failsafe Motor; Port Size 1 Inch; End Connection 1/4 Inch Threaded x 1/4 Inch Threaded; Size 22.67 Inch Length x 6.875 Inch Width; Body Material Stainless Steel; Spring Material Phosphate Coated Alloy Steel; Inlet Pressure 3000 PSI; Outlet Pressure 300 to 2800 PSI; Temperature Rating 32 to 250 Deg F; Full Flow Regulator Size 3/4 Inch; Flow Rate 70 GPM; Fluid Temperature Rating -30 to 250 Deg F; Regulated Range 500 to 3300 PSI; Media Oil/Water; Proof Pressure Rating 7500 PSI; Material Phosphate Coated Alloy Steel (Flange), Stainless Steel (Socket/Wetted Part), Buna-N (O-Ring); Application Coiled Tube Reel, Land Based and Offshore Oil Drilling Control, Wireline Service Tractor, Pressure Sensitive Application
Features/Benefits
Original Shear-Seal® technology; Ultra flow regulator; Tolerates contaminated media; Self venting; Surge dampening; Increased Sensitivity
Series Information
Barksdale's Increased Sensitivity Regulator is a modified version of the Heavy Duty regulator, designed to allow more control at low pressures. This version offers better reaction time and better set point accuracy. The regulated output pressure can be controlled either by the force of a spring, or a motor (hydraulic or pneumatic). Design features ensure excellent accuracy, repeatability and high flow coefficients.