Edwards 24V Strobe/Sounder
Edwards 24V Strobe/Sounder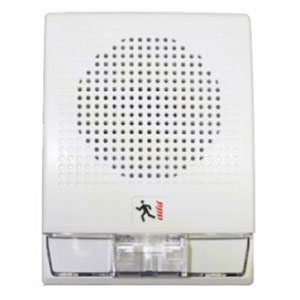 Refine Search:

Audible & Visible Signals

Manufacturer:

Edwards Signaling

Product Family:

Genesis Series

Product Type:

Strobes/Sounders

Operating Voltage:

24VDC

Unit Type:

Audio/Visual

Weight:

1 lb
G4LFWN-HVM Edwards Signaling Genesis Series 24V Strobe/Sounder, low frequency (520Hz w/selectable high/low dB output), selectable: 15, 30, 75, 110 candela rating, white housing.
Product Description
G4LFWN-HVM G4LF Series notification appliances provide the benefits of Genesis life safety signals with output suitable for sleeping areas and other applications requiring low frequency audible tones. These high-performance appliances generate a crisp 520 Hz tone in the standard 3-3 temporal pattern. An optional setting configures the appliance for continuous audible output — a critical feature for coded notification appliance circuits. G4LF appliances also feature field-configurable high and low dB output settings.

When connected to compatible Edwards control equipment, G4LF Series audible output remains synchronized with all Genesis audible signals on the same Notification Appliance Circuit, including standard 3.2 kHz Genesis audible signals.

Available G4LF models include audible-only appliances, as well as combination audible-visible signals. Combination appliances feature Genesis FullLight™ strobe technology, which produces a smooth light distribution pattern without the spikes and voids that characterize bulky specular reflectors. This ensures the entire coverage area receives consistent illumination exceeding UL-1971 light distribution requirements. It also results in a slim, low profile device that blends with any decor. Candela output is field configurable.

When connected to a compatible synchronization source, Genesis appliances synchronize (strobes to UL 1971) to within 10 milliseconds indefinitely without the need for external modules or other equipment. See the Specifications section for a list of synchronization sources.