Seametrics Insertion Paddlewheel Flow Sensor
IP110B Seametrics Insertion Paddlewheel Flow Sensor
In Stock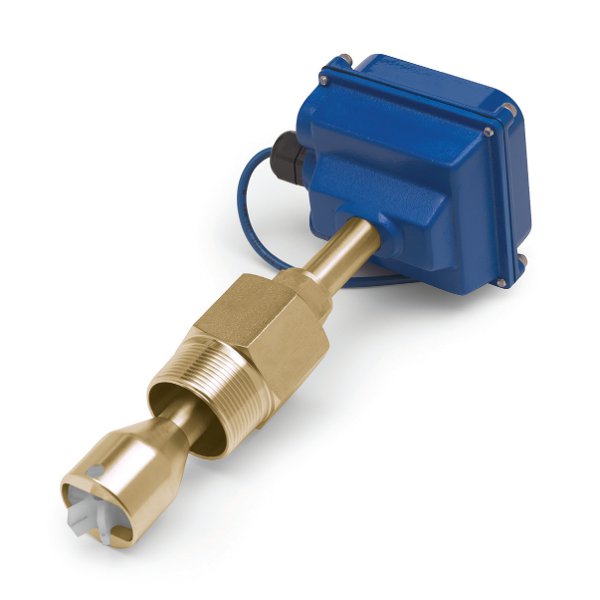 Product Type:

Flow Sensor

Cable Length:

18 ft.

Cable Type:

#22 AWG - 3 Cond

Flow Range:

6.6 - 10600 gpm

Max. Pressure:

200 PSIG

Max. Temperature:

200°F

Power Type:

5 - 24 VDC 1.5 mA

Sensor Body Type:

Brass
Seametrics IP110-Series Insertion Paddlewheel Flow Sensor, 3-12 in pipe, brass sensor, cast aluminum housing, 200 psig@200 deg F, 6.6-10600 gpm flow, 5-24VDC 1.5 mA, #22 AWG, 3 Cond, 18 ft cable.
Product Description
IP100/200-SERIES
Insertion Paddlewheel Flow Sensor

FEATURES
Wide flow range
One moving part
Hot tap available
Modular electronics compatible
Easily depth adjustable for 3-40" pipe
General Information
The IP100/200-Series are adjustable depth insertion paddle¬wheels that come in brass, PVC or 316 stainless models to fit 3" to 40" pipe. Adapters mate with standard 1-1/2" (110/210) or 2" (150/250 or PVC110/210) NPT threaded fittings such as saddles and weldolets which may be purchased either locally or from Seametrics. Ruby bearings and a non-drag Hall-effect sensor give these meters the widest flow range of any of the paddlewheel types. A sensor detects the passage of miniature mag¬nets in the six rotor blades. The resulting square-wave signal can be sent for hundreds of feet over unshielded cable without a transmitter and connected directly to many PLC's and other controls without any additional electronics. If desired, a modular system of electronics can be installed directly on the flow sensor or mounted remotely. The FT415 (battery powered) or FT420 (loop powered) flow indicator pro¬vides digital rate and total display, as well as programmable pulse output; the FT420 also provides a 4-20 mA analog out¬put. If a display is not required, the AO55 provides 4-20 mA analog output, and the PD10 provides a programmable pulse for pump pacing.
Dimension Drawing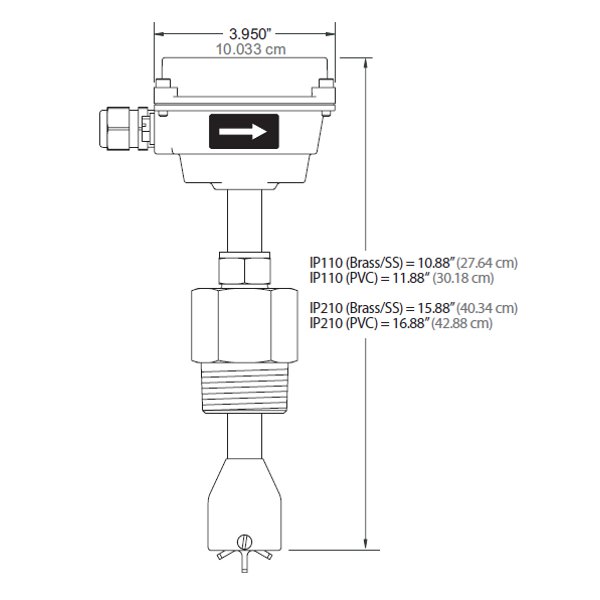 Product Series/Models