Fairchild Products Electro-Pneumatic Transducer
TFXI7850-401EN Fairchild Products Electro-Pneumatic Transducer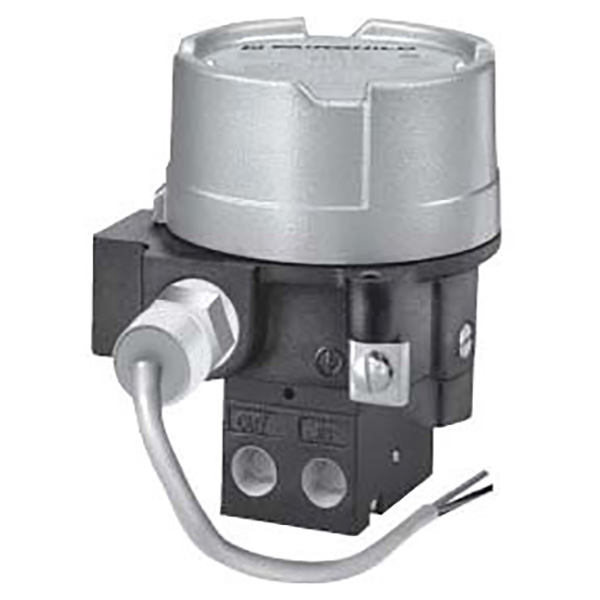 Product Type:

Electro-Pneumatic Transducer

Accuracy:

0.25% Full Scale Guaranteed, 0.15% Full Scale Typical

Accuracy:

0.25% Full Scale Guaranteed, 0.15% Full Scale Typical

Action Type:

Reversible

Air Connection:

1/4 in. Female Threaded (Inlet/Outlet)

Air Flow Rate:

9 SCFM at 120 PSIG

Applicable Standard:

Class I Div 1 Group B/C/D, Class I Div 2 Group A/B/C/D, Class II Div 1 Group E/F/G, Class III Div 1 Fiber, FM

Applicable Standard:

Class I Div 1 Group B/C/D, Class I Div 2 Group A/B/C/D, Class II Div 1 Group E/F/G, Class III Div 1 Fiber, FM

Application:

Indoor/Outdoor

Body Material:

Epoxy Powder Coated Chromate Treated Aluminum

Body Material:

Epoxy Powder Coated Chromate Treated Aluminum

Dimensions:

3-11/16 in. W x 3-13/16 in. Diam. x 4-5/8 in. H

Input Signal:

4 to 20 mA

Mounting Method:

1/4 in.-20 UNC

Output Signal:

3 - 15 PSIG

Output Signal:

3 - 15 PSIG

Pressure Rating:

20 to 120 PSIG

Temperature Rating:

-40 to 160 Deg F

Voltage Rating:

8.2 VDC

Voltage Rating:

8.2 VDC
Fairchild Model TXI7850 Electro-Pneumatic Transducer, 1/4" FPT, 8.2 VDC, 4 to 20 mA Input, 3 to 15 PSIG Output, 9 SCFM, 1/4"-20 UNC, Reversible, FM Approved, Explosionproof, Current to Pressure, Electro-Pneumatic Transducer.
Browse All Model TXI7850 Products
Product Description
Electro-Pneumatic Transducer; Type Current to Pressure; Action Type Reversible; Input Signal 4 to 20 Milliamp; Output Signal 3 to 15 PSIG; Air Connection 1/4 Inch Female Threaded (Inlet/Outlet); Voltage Rating 8.2 Volt DC; Air Flow Rate 9 SCFM at 120 PSIG; Accuracy 0.25 Percent Full Scale Guaranteed, 0.15 Percent Full Scale Typical; Overall Dimensions 3-11/16 Inch Width x 3-13/16 Inch Depth x 4-5/8 Inch Height; Body Material Epoxy Powder Coated Chromate Treated Aluminum; Mounting Type 1/4 Inch-20 UNC; Temperature Rating -40 to 160 Deg F; Pressure Rating 20 to 120 PSIG; Inclusions/Features Nickel Plated Brass and Sapphire Orifice, Stainless Steel and Zinc Plated Steel Trim, Nitrile Elastomer, Nipple; Application Indoor/Outdoor; Applicable Standard FM, Class I Div 1 Group B/C/D, Class II Div 1 Group E/F/G, Class III Div 1 Fiber, Class I Div 2 Group A/B/C/D; RoHS Compliant; Output Span 5 PSIG; Hysteresis and Repeatability 0.1 Percent Full Scale; Enclosure NEMA 4X, IP65; Approval Class Explosionproof
Features
Accuracy as Low as 0.15 Percent; Field Selectable Outputs in 3-Pressure Ranges; Field Reversible Feature; Does Not Contain Copper-Based Metals; Explosionproof NEMA 4X, IP65, Type 4 Enclosure; Tremendous Versatility for Application Design; High Precision Reliable Operation; Easily Matches Final Control Element Requirements; Provides Output Directly or Inversely Proportional to Input Signal; Designed for Use with Natural Gas and Corrosive Media; Approved for Use with Natural Gas or Industrial Methane the Supply Media; Allows for Outdoor and Indoor Installations; May be Used in All Territories and Provinces; Carries Global Approval for Intrinsic Safety and Hazardous Location Operation
Series/Model Info
Fairchild's TXI7850 I/P Pressure Transducer operates under the same basic principles as the TXI7800, yet improves upon the design. By encapsulating and otherwise protecting the critical components, Fairchild designed the Explosionproof TXI7850 I/P Pressure Transducer to be highly resistant to moisture within the supply air lines. Available in both standard and extended range configurations, the TXI7850 delivers vibration, shock and moisture resistance in output pressures up to 0-120 psi [0-8.0 BAR], (0-800 kPa). It carries full Agency Approvals, including FM, CSA and ATEX certifications.