Barksdale Electronic Trip Amplifier
UAS3-5-5 Barksdale Electronic Trip Amplifier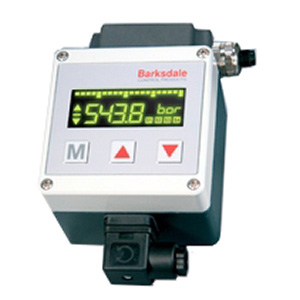 Product Type:

Electronic Trip Amplifier
Barksdale UAS3 Series Electronic Trip Amplifier, 0 to 10 VDC, 4 to 20 mA, Cast Aluminum Housing, 8-Digit 14-Segment LCD Display, Compact, Electronic Trip Amplifier.
Product Description
Electronic Trip Amplifier; Item Electronic Trip Amplifier, Compact; Accuracy 0.2 Percent; Overall Dimension 3-15/16 Inch Width x 3-3/16 Inch Depth x 5-5/16 Inch Height; Input Current Rating 4 to 20 Milliamp; Voltage Rating 0 to 10 Volt DC; Material Cast Aluminum (Housing), Neoprene (Seal), Polyester Film (Keypad), Electrical Connection 14 Slot Plug-In Terminal Strip; Sensor Connection 3-Pin Plug; Cable Gland Type 1 x PG 13.5 Side Entry, Standard; Display Type 1/2 Inch Height 8-Digit 14-Segment LCD; Temperature Range 14 to 158 Deg F (Electronic), -22 to 176 Deg F (Storage); Includes 12-Bit Analog to Digital Converter, Keypad, Easy Response Push Button, (4) Switch Point; Approval UL (Canada and US), CSA
Features/Benefits
Integrated trip amplifier; For pressure, temperature, level and flow; Monitors and controls any sensor with analog output; Ideal companion to our 400-series pressure transducer; Four switch points in a single, compact unit; Easy-to-read LCD display with scalable bar graph
Series Information
Barksdale's UAS3 Electronic Trip Amplifier and controller is the perfect companion to any sensing device that provides a 4-20 mA or 0-10 VDC analog output. Our UAS3 offers the unique ability to switch four discrete circuits in a single, compact unit. In addition to its four SPDT relays, the UAS3 comes standard with either a 4-20 mA or a 0-10 VDC analog output and a digital display with 1/2" tall, easy-to-read digits. A scalable bar graph display provides even greater visibility. Analog transducer outputs are scalable from 25% to 100% of the full adjustable range. A 12-bit microprocessor provides built-in diagnostics and allows for switch time delays and pressure cycling up to 100 times per second. Display units may be readily toggled between psi, bar, kPa, °C and °F units. For applications requiring precision control, multiple switchpoints, and extremely long life, the UAS3 Series is the ideal solution.