OPERATING PRINCIPLE

The light-emitting diode (LED) emits a beam of modulated light towards the target. This beam is interrupted by the target, causing partial reflection. A part of the reflected light reaches the sensing face of the receiver. Depending on the operating principle, either the interrupted beam or the reflected light is used for further processing.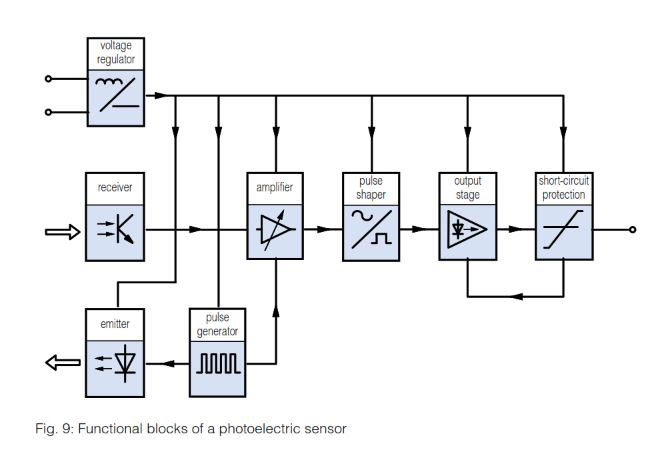 TECHNOLOGY FAMILIES

Contrinex photoelectric devices are divided into five technology families, depending on their operating principle. The program includes energetic diffuse sensors, diffuse sensors with background suppression, reflex sensors, through-beam sensors and sensors with analog output.

DIFFUSE

Versatile and cost-effective

A diffuse-mode, or energetic-diffuse, photoelectric sensor is a reflective sensor, containing a transmitter and a receiver in a single housing. The sensor emits a light beam toward a distant target that acts as a reflector, returning part of the transmitted light to the sensor. The receiver detects the amount of light reflected by the target, triggering the sensor when the light intensity reaches a threshold value.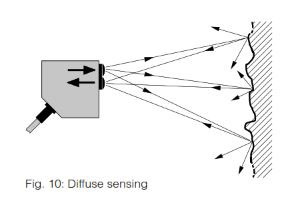 Diffuse-mode sensors are cost-effective as they do not require separate reflectors or receivers, and detect reflective targets with ease. Sensing range depends on the target's size, shape, color and surface finish, although sensor sensitivity is adjustable during installation to compensate for targets with poor reflective qualities.

BACKGROUND SUPPRESSION

Excellent suppression of light-colored backgrounds

Diffuse-mode photoelectric sensors with background suppression emit a focused light beam toward a distant target. Part of the beam is reflected from the target and returns to the sensor, striking a position-sensitive receiver. The receiver distinguishes between reflections from the target and reflections from background objects, only triggering the sensor when the signal reaches a value that relates to the preset target distance.

The sensing range is practically insensitive to the target's size, color, shape and surface finish, and background-suppression sensors provide highly reliable detection of "difficult" targets, even against a light background. Stable, accurate detection of small, fast-moving parts on conveyors or automated machinery is possible over the entire sensing range, eliminating false triggering by objects in the background.

REFLEX

Long sensing range in a single-housing device

A reflex, or reflective, photoelectric sensor contains a transmitter and a receiver in a single housing, and emits a pulsed, focused light beam toward a distant reflector. Reflected light returns to the sensor, arriving at the receiver. When a target object interrupts the light beam, the receiver detects the reduced light intensity and triggers the sensor.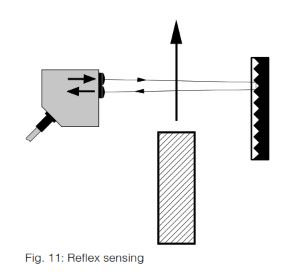 The relatively high level of reflected light allows reflex sensors to achieve sensing distances up to eight meters. For applications where the target object itself reflects light back toward the sensor, models with polarization filters are available. The filters ensure that only light returned from the reflector reaches the receiver, ensuring reliable detection, even with reflective targets.

THROUGH-BEAM

Emitter and receiver in separate housings for sensing ranges from 0 to 50 m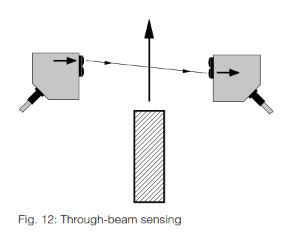 A through-beam photoelectric sensor comprises an emitter and receiver, each mounted in a separate housing. The emitter is aligned so that the greatest possible amount of pulsed light from its emitting diode reaches the receiver (Fig. 12). The receiver, which is mounted beyond the target area, processes incoming light in such a way that it is clearly separated from ambient and other light sources. Any interruption of the light beam by a target triggers the sensor, causing its output signal to switch. For reliable operation, the target must be completely opaque, and its size should be at least equal to the diameter of the receiver's aperture.

Contrinex through-beam photoelectric sensors are ideal for industrial applications where sensing components must be mounted some distance from the target area. Through-beam sensors utilize infrared, visible and laser light sources to detect opaque and semi-transparent targets, reliably and repeatably, at extended distances. They are available in cylindrical versions from subminiature (Ø 4) to small (M18) and cubic versions from miniature (20 mm x 30 mm x 10 mm) to small (40 mm x 50 mm x 15 mm).

ANALOG OUTPUT

Precise distance control

Photoelectric sensors with analog outputs are ideal for measuring absolute values of distance. Using background suppression-mode technology, analog photoelectric sensors produce an output signal that is accurately calibrated and approximately proportional to the distance of the target from the sensor. Users have a choice of current or voltage outputs that are compatible with all modern control systems.

Contrinex analog photoelectric sensors provide all the advantages of standard diffuse-mode sensors, and measure target distances up to 100 mm.

PRODUCT RANGES

STANDARD

First-class performance for general use

Contrinex Standard photoelectric sensors are ideal for general position and presence detection in almost any industry. With first-class sensing ranges and outstanding background suppression characteristics, the Standard range of sensors delivers very high accuracy and reliability. Light sources include infrared, laser and pinpoint LED.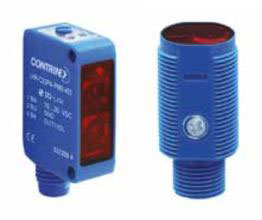 The Standard range offers a wide choice of cubic sizes: C23 (20 x 30 x 10 mm), 3030 (30 x 30 x 15 mm), 4050 (40 x 50 x 15 mm) and C55 (50 x 50 x
23 mm). Cylindrical types are available in sizes M12 and M18, including some M18 types with housings adapted for right-angle detection.

Standard C23 and M18P series are high quality ASIC sensors with an integral IO-Link interface in PNP types. This makes them particularly suitable for smart factory applications. IO-Link extends sensor functionality to include continuous monitoring of process data, continuous diagnosis of sensor status, advanced parameter settings, sensitivity adjustment, a remote teach function and easy checking of sensor ID, to ensure the right sensor is at the right place. See page 186.

MINIATURE

Smallest on the market

The Contrinex Miniature range packs exceptional position and presence sensing performance into the smallest self-contained photoelectric sensors on the market. Designers have the choice of through-beam or diffuse sensors in Ø4 and M5 cylindrical metal housings that offer multiple mounting methods and beam orientation. For fully embedded applications, sensors with spherical sapphire-glass lenses produce focused, cylindrical light beams.

Types with a 5 mm x 7 mm stainless-steel housing and a narrowly focused, cylindrical light beam are suitable for vertical or horizontal mounting directly on the supporting surface. Best-in-class sensing distances of up to 90 mm allow them to be positioned at a safe distance from the target.
The C12 Series (13.5 mm x 21.8 mm x 7.7 mm) with small visible light spot thanks to red pinpoint LED offers long sensing ranges up to 2000 mm in a through-beam type and 3000 mm in a polarized reflex type. Two background suppression types are available with fixed sensing ranges up to 15 mm or 30 mm. A third type with 3-turn potentiometer (13.5 mm x 27.5 mm x 7.7 mm) reliably detects objects up to 120 mm.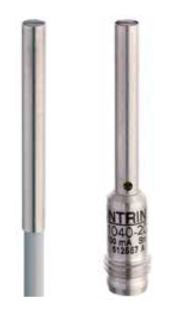 TRANSPARENT OBJECT

Outstanding reliability and ease of adjustment

The Contrinex TRU-C23 photoelectric sensor is ideally suited for the presence control of transparent objects. Its patented technology uses UV light. Since transparent materials like plastic or glass absorb large amounts of polarized UV light, it is very easy to set the threshold at which the sensor switches. The shape or thickness of the target has no influence on detection. In addition, sensor performance is unaffected by dirt, water drops or aging.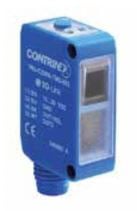 The sensor system comprises an LED that emits polarized UV light and a UV reflector. Overall, the sensor's operating range is around 1200 mm. Special optics with autocollimation ensure reliable detection and no blind zone, even close to the sensor or through a small notch. For applications requiring the detection of thicker or larger transparent objects, the C23 Transparent Standard can be the ideal solution. It operates with polarized, red light and has a maximum operating range up to 5000 mm. Typical fields of application can be found in the food, pharmaceutical and packaging industries. Both sensor types include an IO-Link interface (see page 186).

FIBER-OPTIC SENSORS AND FIBERS

Reliable short and long-range sensing

The highly versatile Fiber-Optic range includes the self-contained 3030 and 4040 series (30 mm x 30 mm x 15 mm and 40 mm x 40 mm x 19 mm) and the DIN-rail mounted 3060 series (31 mm x 60 mm x 10 mm), suitable for multiple-sensor applications. Synthetic fibers are available for general use and glass fibers for high temperatures and aggressive environments.

Customers requiring intrinsically safe photoelectric sensors with DIN-rail-mounted electronics need not look beyond the Contrinex 3060 series of fiber-optic amplifiers. In a Crastin housing, every model combines ease of set-up with market-leading features, including IO-Link (see page 186). With switching times as low as 0.1 millisecond, 3060 fiber-optic amplifiers are ideal for sensing fast-moving targets in demanding environments, including robotics, precision handling systems and printed circuit board production.


Distance setting is accomplished either by adjustment of a multi-turn potentiometer or by use of a teach-in function with manual fine adjustment. An optional digital display (model 3066) is also available. Using blue-light sources (model 3360), detecting glass is possible at distances up to 100 mm. Fiber-optic sensors are common in explosive environments or in the presence of strong electromagnetic fields, but also in confined spaces. With bend-radii as small as 2 mm, reliable, accurate sensing is possible even in the most inaccessible areas.

DISTANCE

High precision and direct digital transmission

DTR-C23 and DTL-C23 sensors use a triangulation method for highly accurate distance measurement at short range. Types with red light (DTR-C23) measure distances of 20 to 80 mm or 30 to 200 mm, while the measurement range for laser types (DTL-C23) is 20 to 100 mm. Applications include small-part detection, position or height checking and monitoring material thickness on winding rolls.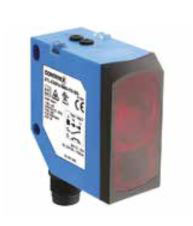 For ranges up to 5000 mm, DTL-C55 sensors use the optical time-of-flight (TOF) method. In the IO-Link version, measurements are passed directly to the control system as millimeter values in digital form, with no need for an analog-to-digital converter and no signal drop for long lines. In addition, IO-Link provides diagnostic and other functions (see page 186). With two virtual switching points settable either via teach-in or direct parameter write-in, this sensor is ideal for use in mobile logistics, such as forklift trucks.

With both methods, distance measurement is largely independent of target color or surface characteristics. Detected distances can be output via an adjustable analog output and, for a digital output, a switching window of acceptance may be configured by teach-in.

The housings of DTR-C23 and DTL-C23 sensors (20 mm x 34 mm x 12 mm) and DTL-C55 sensors (50 mm x 50 mm x 23 mm) have an IP67/IP69K enclosure rating. DTL-C55 sensors have Ecolab certification.

COLOR AND CONTRAST

Excellent resolution for smallest variations

Color photoelectric sensors utilize energetic-diffuse sensing technology to detect variations in target color, allowing color sorting or color control. A "teach-in" function is used to program up to three separate outputs. Contrinex color photoelectric sensors also feature five selectable tolerance levels for each output, enabling the sensor to recognize or ignore even the smallest variations of color.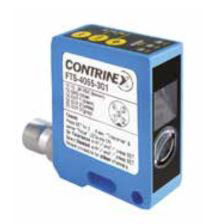 Contrast sensors are ideal for detecting print marks in printing, labelling and packaging processes. Using a narrowly focused light beam and RGB emission technology, contrast sensors automatically select the best emission color (red, green or blue) during the teach-in procedure. Excellent contrast resolution, a high switching frequency (up to 10 kHz) and five tolerance levels ensure accurate detection and positioning, even when contrast differences are minimal. The integral IO-Link interface may be used to reduce changeover times through remote teach-in and parameterization. Other control functions, including monitoring, diagnosis and switching timer adjustment are also available (see page 289).

Contrinex color and contrast sensors have a rugged PBTP housing (40 mm x 50 mm x 15 mm) with IP67 enclosure rating and are available in cable or adjustable (0°, 45° or 90°) connector versions.
LIGHT GRIDS

Fast detection, counting and measurement

The use of infrared light grids for non-contact measurement offers many advantages, including fast response times, reliable detection of the most varied objects and immunity to interference from ambient light. Potential applications for these keen-eyed, robust sensors are to be found in such fields of application as logistics or automated packaging systems and in harsh environments such as warehouses and the wood industry.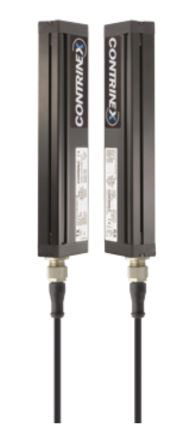 With the DGI (detection) and MGI (measurement) series, Contrinex presents compact infrared light grids as a robust plug-and-play solution. With a cross-section of only 40 x 20.5 mm, these space-saving devices are easily integrated into different systems. DGI types offer detection heights up to 2010 mm and are capable of detecting objects with diameters of 0.9, 2, 4, 8 or 25 mm, depending on type. With response times between 0.8 and 4.8 ms, even small objects moving at high speed can be reliably detected and counted. Fields of application include the production of small parts or foil, packaging equipment and the pharmaceutical industry. In addition to detecting the presence of an object, MGI measurement types can also determine its dimensions and position. These sensors offer measurement heights up to 1438 mm and a resolution of 5 or 12 mm. Measurements are output as analog values of 0-10 V or as a 4-20 mA signal.