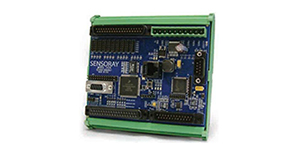 If you're applying an Encoder Products Company (EPC) incremental encoder within an industrial Ethernet system, you'll need to convert the output signal to a compatible format. There are several ways to do this, including at the machine level via an embedded Ethernet card, such as the Model 2426 from Sensoray. This solution was recently put on display in a trade show demo: The Jelly Bean Machine.
Adoption of Industrial Ethernet is growing. Advantages such as reduced cabling costs and the ability to readily interface with other Ethernet devices are leading to increased usage throughout the factory floor. While Ethernet is often used for system-level or plant-level monitoring and control, it's also being applied more frequently for machine-level motion control. Ethernet connectivity of encoders enables the signal to be visible to networked computer control systems and displays.
When applying Ethernet communication at the machine level, the OEM machine-builder/designer needs to provide an interface for sensor inputs. Cables can be directly connected to the computer, which can be cumbersome and costly--especially when multiple sensors are used or when long cable runs are required. Another option is to use an Ethernet card embedded in the machine.
In response to customer demand, Sensoray, a Portland Oregon manufacturer of embedded electronics, recently successfully tested a number of AccuCoderTM incremental encoders for compatibility with their Model 2426 Ethernet card. The Model 2426 was developed to be a simple, effective means of providing embedded Ethernet I/O connectivity. In order to demonstrate the technology, the card was incorporated into a trade show demo: The Jelly Bean Machine (JBM).
Designed and built by Sensoray, the JBM is controlled by a laptop PC with the Sensoray Model 2426 providing Ethernet interface for an EPC Model 15T incremental rotary encoder. A 1.5" diameter thru-bore encoder, the Model 15T was configured with 2000 CPR, 5VDC and line-driver output.
The encoder provides speed and position feedback for a small timing belt. The belt acquires its jelly bean cargo from a reservoir and dispenses it to the operator.
Recently EPC displayed the JBM at Pack Expo Las Vegas, an annual packaging trade event. The results of the demo were sweet success for the many customers who tried the JBM over the three day show.
So, if your machine needs to receive and send incremental encoder signals via Ethernet, consider the Sensoray Model 2426 Ethernet card. Sensoray describes it as a versatile and compact, multi-function I/O board that is able to concurrently serve up to four Ethernet clients. For more details about the Model 2426 contact Sensoray. Also, for a closer look at the Jelly Bean Machine, download Sensoray's publication Application Note: Remote Controlled Jelly Bean Dispenser.
Incremental rotary encoders, by nature are not stand alone devices. They are always part of a control or feedback system. As such, the encoder's signal interface and connectivity will always be a specification consideration. In general, our guidance is " match the encoder output to the receiving device."
When that device requires industrial Ethernet, the Sensoray Model 2426, as demonstrated by the Jelly Bean Machine, just may be the trick that delivers an automation treat.