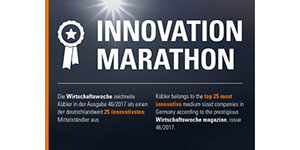 According to the prestigious "Wirtschaftswoche" (issue 46/2017), one of Germany´s top business magazines,
the Kübler Group in Villingen-Schwenningen belongs to the 25 most innovative medium-sized companies in 2017
. Kübler is one of the leading specialist worldwide for position and motion sensors, slip rings and further transmission products as well as for counters. On behalf of the "Wirtschaftswoche" the Munich Strategy Group (MSG) evaluated over 3,500 companies regarding their innovation strength.
In the last two years Kübler has greatly expanded its innovative power, introduced new innovative processes, increased the number of R&D employees by 35% and established an Engineering Solution Center in Berlin for smart magnetic sensors. In 2017 Kübler is now showing the first results with new product categories such as motor feedback encoders, smart bearingless encoders, Ethernet slip rings and a new shaft copying system.
The Kübler management and the entire Kübler team are visibly delighted with the award. "The award is a confirmation of our "Innovation Marathon" and motivates us to stay tuned with a lot of energy", said Lothar Kübler. "We are focused on fully understanding in application of our customers in their segments. Thus we can create the right product solutions in a short time", adds Gebhard Kübler. The two brothers and managing directors of the globally active family company located in the Black Forest are now leading the company for 20 years in second generation. With 10 subsidiaries and agencies in more than 50 countries, Kübler is always close to its customers.