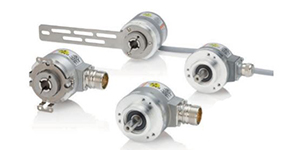 With its second functional safety technology generation and a mature portfolio of encoders, modules and services, Kubler is starting a journey in everyday industry of the future. The new modular components series has been developed on the basis of Kubler's wealth of practical experience with SIL2 and SIL3-certified encoders and solutions both in new and in retrofitted plants.
Many very different applications have shown that three core aspects are increasingly emerging: highest possible safety combined with simple, flexible integration and affordability. Against the background of a globalized market, the compatibility of safety and best possible machine availability is gaining importance.
A company that does not want to operate only on niche markets must - also in the core sector of safety technology, that is to say in Europe - produce in a way that will ensure its success all over the world: price-driven. Easy integration and simple programming: Kubler's new safety program is modular.
Kubler Safety-M stands for a wide range of new modules: starting from the all-rounder Safety-M compact for clearly defined applications, rounded off with the Safety-M modular devices for complex automation tasks that have to be solved in the easiest way possible. Kubler Safety-M can and has to grow; it is scalable and therefore the perfect solution for applications that have to offer perfect safety even for the next modernization or expansion phase of the machine.

No equation with unknowns

The trouble with old machines! They are written off for a long time, but they are still working as reliably as the first day. The main mechanical components are in perfect condition, and the existing tooling has been manufactured at high cost especially for the machine. These are many arguments against decommissioning or even scrapping.
Let's calculate: let's assume that the electricity consumption of the machine is no longer meeting modern standards. In energy-intensive branches such as metal processing, this can be a significant cost driver. Now, which modernization measures are available against this background? What costs and benefits can realistically be expected, and what is the cost-effectiveness of the reconditioned machine compared to a new one?
Even more unknowns join in the calculation if the replacement of the control and regulation technology requires a new safety assessment of the machine. In this case, the costs of the safety technology shall not neutralize the energy savings achieved with new power supply or regenerative units. Otherwise, the effort will not be worth it. Whether it will pay off is therefore strongly related with the suitable safety solution.

Programming made easy

The Safety-M compact safety modules offer the required suitability exactly for these applications, from the modification or retrofitting of machines up to the tailor-made and functionally equipped new plant. And their popularity is growing because they offer advantages with respect to larger PLCs.
Optional OLED displays even allow taking in charge locally display and operating functions. Kubler's new Safety-M safety modules range offers the suitable module for every automation task, centralized in a cabinet, distributed among several cabinets with cross communication, up to decentralized installations.
Contributing to the efficiency in the metal-working industry
Cast iron can be found anywhere. We meet it daily, in the engine block of our car, in our homes in the form of heating pumps or, when we enjoy a bath in our bathtubs – made mostly out of cast iron. Even though the archaic method and the technique of iron casting have remained unchanged for about 5000 years, the machines used have undergone a dramatic development. This branch is characterized today by more and more complex parts and highly efficient, fast production.
Competition does not tolerate standstills any more. Components must be quickly replaceable and their maintenance must be particularly easy. Here too, "time is money." In foundries, full portal cranes are substantially facilitating work. They handle hazardous products, up to 1,600 degrees C hot liquids or loads weighing several hundred tons in an accurate and safe way.
The mounting of the crane allows optimal use of its strength in the hall. Most of the intelligence of the crane can be found in the winch units. They are in charge of the accurate positioning and the gentle approach of the load. They are equipped with hoist monitoring units hat protect from overloading, with hoisting frequency converters, with a frequency converter control for the travel drives and, not least, with robust SIL encoders on the hoist motor.
Tough use on a gantry crane

In foundries, gantry cranes have to handle particularly heavy or hot loads, therefore leading to highest danger both for man and for the machine. According to Directive relating to the use of work equipment, the electrical and hydraulic controls of the machines used here must comply with the requirements of the highest safety level. According to the European standard EN ISO 13849-1, an error in the machine control shall not lead to the loss of the safety function.
It must "be detected prior to the following dangerous movement" and "the movement of the machine must be stopped safely in case of an error." These requirements do not apply only to new machines, but also, without restriction, to older used machines. If the electrical and hydraulic control does not meet these requirements, only two solutions remain: upgrade or take out of service.
The modular safety technology, which processes all electrical and hydraulic control signals, is a central element of a gantry crane. As machine availability is very important in the steel industry, Safety-M modular equipped with an ASi system bus is predestined for this application. If single modules fail or if the concerned plant sector goes off line, the central unit goes on working reliably. This way, system errors belong to the past.

Communication specialists
The modules of the Safety-M modular series are highly communicative: Their different interfaces range from field buses such as CANopen, Profibus DP, through Industrial Ethernet such as Profinet, EtherCat, Ethernet/IP, up to Profisafe and many others. In spite of their compact construction, even the basic modules show high performances: Up to eight inputs and outputs are available for various information.
Safety is not a product
Nevertheless, combined with the expansion modules, these possible uses can be decisively enlarged. The service range of the currently 22 different safety modules encompasses inputs and outputs for light barriers, access control, emergency stop buttons or simply signal lights, safe potentialfree relay contacts and, in addition, various safe speed monitoring devices for the optimal coverage of all drive safety functions with various encoder interfaces.
Kubler's new modular safety series Safety-M offers all-round safety solutions at an affordable price that grow as the automation tasks do. And they are equally suitable for the modification and retrofitting of machines and for the construction of new ones. Safety-M shows that even complex tasks can be implemented easily and without much programming work. This is what makes them so fast.
The Safety-M modules correspond exactly to their automation task and grow with the plant in the case of an expansion. Kubler's comprehensive service also strongly contributes to the simple and straightforward solution of any flexible task. Because, no matter how decentralized or flexible the system may be: with Kubler, safety technology is a solution constructed with small jigsaw puzzle pieces.