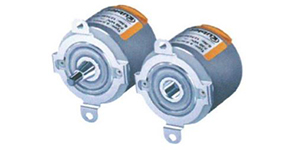 The drive technology is undergoing radical change. Always more compact, more efficient, more powerful, these are the demands posed on the drive manufacturers. This entails a new challenge also for the sensors. Kubler managed, with its new motor feedback encoders product family, to offer a future-proof and flexible sensors solution.
Based on the requirements of the branch and relying on its many years of experience in the drive technology, Kubler presents its new motor feedback encoders product family. Kubler developed these new motor feedback encoders in close cooperative partnership with well-known servomotor and converter manufacturers. They are based on a unique platform that offers a wide range of possibilities and advantages for servomotors.

The particular feature of the new Sendix S36 Motor-Line encoders is their compact size of only 36.5 mm for a maximum resolution of 2048 SinCos / revolution or 24 bits fully digital. The great advantage is that one single size allows realizing several performance levels, which until now required at least two different encoder sizes, e. g. 36 mm and 58 mm.
The mechanical connection between motor and encoder is independent of the required performance level. The Sendix S36 combines all this in one compact size and therefore allows a substantial reduction of the number of motor variants. This leads to the standardization of the mechanical connection. Existing motors using a 58 mm-size encoder can now be designed in a much more compact way using the Sendix S36 Motor-Line.

A tapered or a blind hollow shaft and various torque stops are available for standardization. This ensures maximum flexibility for the drive manufacturer when selecting the mechanical connection, providing him the optimal encoder for servomotors. The choice is also broader in terms of functional safety. According to his choice for a tapered or for a blind hollow shaft, the drive manufacturer can select freely the preferred mechanical connection for his safety concept.

Electrical interface wonder
The unique platform offers the choice among a wide variety of possible electrical interfaces. The Sendix S36 Motor-Line encoders will be available with the following interfaces:

-RS485 + sin/cos
-BiSS
-BiSS Safety
-BiSS Line (single-cable solution)
-SCS open Link (single-cable solution)

This represents a real benefit for the drive manufacturer and for the machinery and equipment manufacturer. Thanks to the broad choice of electrical interfaces allowed by the Sendix S36 in this compact design, the electrical interface is no longer the limiting factor. This allows for a flexibility and cost-efficiency unknown until now.

Besides the benefits already mentioned, this new encoder family features small details that make the huge difference. These motor feedback encoders include many smart and highquality extras. They offer decisive advantages, therefore making a significant contribution to the high availability and safety of the machines.

Servomotors naturally also can operate in applications with strong shocks and vibrations, which are very demanding on the encoder. Experience has shown that also the connection technology is an area that has to be considered, as the plug connection can become loose in case of high shock or vibration values. This is a potential source of errors that must be eliminated. Kubler has taken up this challenge and developed an innovative connector concept that makes sure that encoder connector loosening belongs now to the past, even in tough and rough environments.