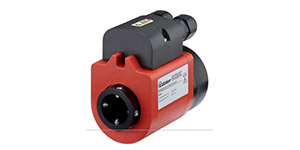 One of the reasons for the participation of Kubler is the extension of the products portfolio in the area of transmission technology. Moreover, the packaging industry is one of the focus markets and core branches of the Company. The position and motion sensors area shows the whole variety of incremental and absolute encoders. Counters and process devices complete this product range.
The new slip ring product family featuring low-maintenance up to maintenance-free slip rings with a compact or modular design is a highlight of the presentation. With this products mix, the Company sets the right signals in terms of product variety, flexibility and quality and presents itself as a partner for the packaging industry.
Meet the requirements
The market demands long service life for slip rings, long maintenance cycles, non-contact signal transmission as well as, for example, compliance with the hygiene requirements of the food processing industry. Thanks to their compact design and their innovative contact materials, the slip rings of the SR060 type (picture, rear view) are particularly suitable for the packaging industry.
Special attention was paid to the hygiene requirements. The straight and smooth surfaces ensure easy cleaning. The innovative contact technology increases the maintenance intervals. They are ten times longer than for conventional gold/gold wire contacts. This is why this slip ring can be qualified as lowmaintenance. The slip ring SR060E is used mainly in flowpack machines, e.g. to regulate the temperature of the sealing roller by sending signals to the control. The high load current transmission reaching 20 A ensures shorter and faster temperature regulation.
Thanks to the non-contact signal transmission, the slip rings of the SRI085 type (picture, front view) are maintenance-free. The modular system allows flexible combinations of load and signal channels. The customer receives an individual product tailored to his needs.