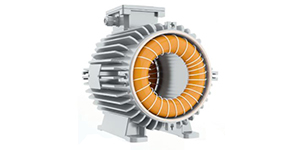 Over 300 drive technology component manufacturers use the IPs, the service and the practical tools of the open source interface BiSS. This bus-capable interface has been on the market for twelve years now and evolved into the real-time standard of this branch. This open protocol demonstrates its advantages as soon as high transmission speeds and flexibility are required.

The acronym BiSS stands for Bidirectional-Serial-Synchronous. This open source interface can be easily limited to a sensoractuator interface with respect to field buses. When it was launched on the market, BiSS was confronted to various existing bidirectional interfaces among the position and motion sensors.
At this time, communication was predominantly analog, and every sensor manufacturer was following his own approaches. Special solutions were almost the general rule. So the logical response was to use an open source solution to create an interface compatible throughout the branch. And using BiSS-C means using an open variant in the so-called continuous mode that started its triumphal march and is today established and appreciated throughout the industry.
The C mode can allow avoiding mode switching. Orders can thus be sent from the master to the slave without interrupting the sensor data flow. These are without doubt the reasons why this protocol can meanwhile be found in many types of drives, controls and counter cards. But BiSS-C has further advantages: this interface offers high speeds with data rates reaching ten MHz, inherent safety and flexibility for the selection of the suppliers. This interface is not only suitable for the lift sector, but for all dynamic axes with high accelerations.
BiSS will be found in the future also in other applications of drives technology. Arguments for this are a smooth speed control, a very good - bidirectional - repeatability and great position stability. Data transmission is digital through a standard two-wire cable, the particular speed resulting directly from the transmission rates of the drive electronics. These allow cycle times of a few microseconds for 32 bits.

Two levers
In a growing market, there are mainly two levers that help ensuring competitiveness: innovation and costs reduction. Extrapolated on the lift market, this means that the branch increasingly relies on innovative technologies to meet pressing demands for energy saving and environmental protection. New gearless drive systems, energy feedback, smoothness through vibration reduction and modern magnetic materials for better electromagnetic compatibility are only some of the development focuses. They will contribute to shape the lifts of the future.
The second lever, costs reduction in a prosperous market, is delicate. Safety and trust in the product come before rigorous costs saving. The brand shall in no way suffer any damage. However, internal scale effects are easy to achieve developing product portfolios with many variants based on a common product platform. Along with much technological experience and know-how, standardization can influence decisively product costs. Lifts use encoders to regulate the speed or monitor the position of the drive. They moreover ensure accurate shaft copying and monitor the speed limiters.
Encoders for the lift technology
While, only ten years ago, these tasks were generally taken in charge by absolute singleturn encoders based on RS422 or RS885 and incremental sincos interface, the branch has changed decisively today.. Many variants now rely on a new communication standard: the BiSS protocol as an open source interface. With its encoder family Sendix absolute with BiSS interface, the encoder manufacturer Kubler offers the suitable products portfolio for this new branch standard.
With diameters from 36 mm up to 70 mm, the F36, 58xx and Sendix ATEX models, it covers all model sizes. They encompass optical gear technologies as well as gearless encoders. Certified for Functional Safety or equipped with the Intelligent Scan technology, the whole family has the ability to communicate bidirectionally between the sensor and the actuator, while remaining fully SSI compatible. Existing standard control hardware therefore remains totally usable for the users of the Sendix BiSS encoders. Their digital standard also ensures communicative clarity and simplicity, as well as the largest compatibility possible.
BiSS encoders perform better
Kubler has been using this open interface intensively since its launch and therefore belongs to the pacemakers on its way to the industrial standard. This modern open interface meets all performance requirements of the lift industry. So, the encoder Sendix 5873 BiSS can easily be mounted on direct drives. Its conical shaft ensures highly accurate and direct coupling; a reset button makes commissioning easy.
The incremental sin-cos path provides up to 2,048 pulses per revolution. Kubler also offers special encoders for Functional Safety equipped with BiSS, which is a decisive criterion for universal usability in lifts. Today, drive technology without integrated safety functions, the socalled "drive-based safety," is almost impossible to sell. In order to achieve safe incremental information with the Sendix SIL encoders, the control monitors the validity of the analog sinecosine signals offset by 90 degrees from each other using the function "sin² + cos² = 1."
The control achieves safe information about the absolute position by counting the incremental pulses and comparing the result with the absolute position also provided by the encoder. Elevators date back to times when, suspended by ropes, they transported miners down in coal mines or bourgeoisie believing in progress in their new Wilhelminian buildings. Today, elevators are impressive glass tubes or spacecraft-like cabins that plunge down from the top of one hundred storey-buildings at a speed of sixty kilometers per hour.
Even though these examples are today merely flagship projects of lift construction, they are nevertheless prefiguring the future of this industry. Thanks to its dynamic line length compensation and its optimal motor data storage and reading options, the BiSS interface will go on providing good services for many years.
BiSS with safe prospects
This interface has established itself firmly in the lift market. And, whatever the content one may give to the worldwide famous formula of industry 4.0, one thing is certain: this communication platform will gain increasingly importance in the future.
In the future, the ability to communicate bidirectionally, that is to say transmit feedbacks or confirmations, will be neither marginal nor dispositive. Higher safety through quick failure diagnosis and an immediately available energy balance are becoming key factors.
More and more and always faster evaluable data will network high plant intelligence that is already available, distributed over several systems that will pass on this data to one another. The result for the lift branch could be that we will be able to glide down smoothly, in total peace of mind, the almost 500 meters long concrete shafts of the Taipei Financial Center or of Burj Dubai.