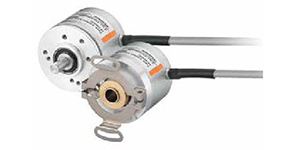 Depending on the application sector and on the state of the standardization, requirements for sensors, and therefore for encoders, differ throughout the world. However, all products should show specific characteristics: compactness, cost-effectiveness, resistance to external influences and safe operation. At this year's Hanover trade fair, Fritz Kubler GmbH, one of the leading encoder manufacturers, will present innovations for the year 2015 that offer all these characteristics and demonstrate the expectations designers can set for them.
Encoders are components measuring linear or rotary position changes in the form of distances or directions, which operate discontinuously and provide a material measure with a repetitive periodic counting track. So far, so good. This sober functional description hides a strongly quantity-driven, export-oriented market of millions that is increasingly differentiating and characterized by increasing product design requirements.
Fritz Kubler GmbH, based in Villingen-Schwenningen, regards itself as a worldwide leading specialist, not only for encoders but, in a much broader way, for position and motion sensors, functional safety, counting and process technology and transmission technology.
This medium-sized company founded in 1960 and currently employing 450 people will present at the 2015 Hanover trade fair a range of innovations that highlight this market position claim. Some of the latest products of its Encoders core segment, which Kubler will present this year to the designers, are described below.

Space-saving and cost-effective, for all standard applications
Kubler's encoders of the Sendix Base KI40 series meet especially the requirements for compactness and costeffectiveness. This makes these components perfectly suitable for all standard applications. With their compact size of only 40 mm, they suit for restricted mounting spaces and for integration in small machines and devices. This allows simple and fast installation. The incremental encoders of the KI40 series are available as shaft or blind hollow shaft variants.
The blind hollow shaft has a diameter of 8 mm. Their IP64 protection level and their wide temperature range from -20 to 70 °C allow operating these encoders reliably also in harsh environmental conditions. Thanks to their optical sensors, these devices are 100% insensitive to magnetic fields. The resolution reaches 2,500 pulses per revolution. In their 5V power supply version, these devices have an RS422 interface; their 10 to 30 V power supply version features a push-pull interface.
According to the manufacturer, the short-circuitproof outputs and the reverse polarity protection of the supply voltage guarantee a safe and error-free installation of the encoder. Typical applications: small printing machines, plastic processing machines, textile machines, automatic doors, packaging machines, cutting and welding plants, and small drives and stepper motors.
Explosion protection is a particularly safety-relevant obligation of many industries and branches. In areas such as the mining industry, high plant availability and best protection possible for men and environment have highest priority. Here, the measuring devices in charge of positioning tasks must fully meet strictest protection regulations. With its incremental SendixAtex/IECEX 71XX encoder series, Kubler extends its product portfolio in the area of explosion-proof encoders. For example, with their M2 mining certification, these encoders are approved for use both in surface and underground mines.
According to the manufacturer, used in compliance with its protection ability, this series decisively reduces a possible explosion hazard. Moreover, this product covers a whole series of other safety aspects. With its explosion-proof encapsulated stainless steel housing in Safety-Lock design, it is approved throughout Europe for the zones 1, 2, 21 and 22. And, according to Kubler, thanks to its IECEx certification, it is now free for worldwide use.
The shock and vibration-resistant pressure housing out of stainless steel with its IP67 protection level is another part of the safety package. These entirely saltwater-resistant encoders are thus suitable even for offshore plants. In their incremental variant, they operate flexibly with a resolution reaching 5000 pulses and, thanks to their wide temperature range from -40°C up to +60°C, they perform their work reliably even in harshest conditions.
The Ex encoders thus ensure excellent safety against field breakdowns. Their compact size, with a mounting depth of only 145 mm, a diameter of 70 mm and a space-saving cable outlet, complete the application possibilities. The absolute multiturn or singleturn encoders of this series are available with SSI and field bus interfaces.
Reliable magnetic technology for harsh environments
Kubler rounded off its portfolio in the area of optical absolute multiturn encoders with a series of magnetic multiturn encoders. According to the manufacturer, the Sendix M36 series is in particular characterized by its compact dimensions of 36 mm, its robust construction and its high IP67 protection level. Moreover, the magnetic technology ensures a cost-effective and reliable operation in harsh environments.
Markus Brunner, Global Industry Manager Mobile Automation at Kubler, explains: Thanks to their particular quality features, the Sendix-M36 encoders are predestined for a versatile use in the mobile automation. In this specific branch, the technical requirements, but also the increasing cost pressure play a significant role.