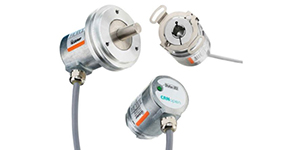 In mobile cranes, components are often subjected to tough conditions. Besides their robustness, encoders intended for this application have to show further advantages. With its magnetic technology, a new series promises cost-effective and reliable operation.
Mobile cranes use increasingly electronic systems to ensure better performance. This begins at the drive and does not end simply at the user interface. Crane coordinates measurement is an example. This data allows monitoring continuously the exact crane position and the load changes. In long halls and in extremely dusty or vapor-subjected environments such as for example in casting halls, these position measurements generally rely on encoders with particular robustness features.
This is where Kubler's new Sendix M36 magnetic encoders show their strengths: thanks to their resistance against dust and condensates, they do not imperatively require integration in a housing system. This saves time during installation and, above all, costs for encoder protection. Moreover, these encoders boast an attractive price/performance ratio and are comparatively less expensive than optical encoders. However, the much more important element is the fact that this progress finally benefits work and process safety on mobile machinery.
As all Sendix encoders, also the M36 series is equipped with Safety-Lock; as magnetic encoders, they even have the Plus version. This version offers additional mechanical protection for the shaft seal. They are therefore prepared for IP67 or IP69k. The Sendix M36xxR variant offers even more robustness and safety. It includes a stainless steel housing and offers higher bearing loads.
The encoders are thoroughly tested, for example according to a special standard for road vehicles. Particular focus is set on environmental requirements such as the combination of temperature, humidity and dust. The encoders have been granted the e1 approval of the Kraftfahrt-Bundesamt (German Federal Motor Vehicle and Transport Authority). This approval sets specific requirements for EMC and on-board power supply.
This magnetic encoder generation has a diameter of only 36 mm. It is available with analog outputs as well as with SSI and CANopen interfaces. The solid shaft versions are mounted using a coupling, while the hollow-shaft encoders are mounted directly on the motor shaft. In addition, robust variants with flange diameters of 42 and 58 mm are available.
With a total resolution reaching 36 bits resulting from the combination of a multiturn encoder with max. 24 bits and a highly-accurate singleturn stage reaching a 12-bit resolution, the Sendix M36 encoders show a versatility that opens many new application possibilities. From the technical point of view, the encoders are based on the use of Hall sensors.
Energy harvesting in the crane
The advantages of this manufacturing process appear fully in tougher outdoor use, such as in cranes or mobile construction and working machinery. As singleturn devices, magnetic encoders have been over decades the most cost-effective solution for absolute position measurement in this branch. But, what was missing for a long time was the possibility of counting several revolutions without external power supply.
Energy harvesting was here the solution. This technology allows doing without both gears and a buffer battery, as the required energy is gained directly from a rotating magnetic field. So the encoder generates itself the energy it needs for the multiturn sensor signal and for counting and saving the measurement signals. When de-energized, it measures the revolutions using the energy it generates itself - directly from the movement of the drive.