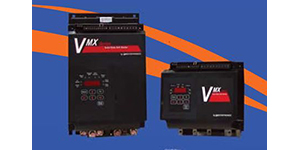 Marine Applications
Fluid Pumps, Water Pumps, Ballast Pumps, Compressors, Chillers
Input Voltage: 200-600VAC
Current Rating: 18-1250A
Motor Power: Up to 900kW/1200HP
Digital Soft Starter With Built-In Bypass Contactor
Integral Bypass Contactors are standard on all sizes and provide maximum efficiency of panel space while maintaining the Motortronics reputation for being able to soft start most any load. The VMX Series is the only fully integrated, compact, world-class design offering uncompromised power and control capabilities.
Pump Applications
Eliminate the damaging effects of "Water Hammer" - A gradual reduction in the output torque of your pump motor is provided when a stop signal is initiated. When the motor output reaches a point where the check valve can be safely and gently closed, the Pump-Flex circuit automatically turns itself off.
Since no two pumps or pump applications are exactly the same, the flexible settings of Pump-Flex decel control allow you to tailor the output to precisely match your application requirements. No need for external timers or auxiliary controls.
Compressor and Chiller Applications
Current Current Ramp - This function provides a linear increase in output current during acceleration.
Closed Loop Torque/Current (CLT) - This function provides a linear increase in output torque during acceleration. It maximizes the available torque using an internal PID feedback loop, insuring a smooth, linear ramp up to full speed.
Minimize Maintenance Costs and Downtime
By gradually reducing motor torque using Pump-Flex decel control, the potentially destructive pump output pressure is allowed to slowly dissipate in the system during the stopping process. Check valves close gently and other uid system components including pipes, valves, anges, couplings and hangers are no longer subjected to the shock and destructive potential of water hammer.
The VMX Series Also Includes Built-In Functions
-Process Control Timer
-Operator Interface
-4 Ramp Control Choices
-Dual Ramps
-Jog Function
-Kick Start Function
-Pump-Flex Deceleration Ramp
-Restart Delay Timer
-24-hour/7-day Time Clock Controller
-Batch Process Timer (runs for a set time after starting, even after power outage)
-RRS-485 Serial Communications
-Metering Elapsed Time Meter
-Run Cycle Counter
-Remaining Lockout Time and Fault History (for maximum control and status of your pumps or processes)
Lower Your Maintenance Cost and Reduce Mechanical Stress.