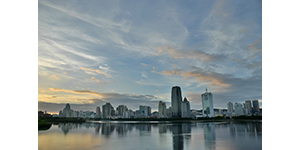 The global rollout of ABB's Emax 2 retrofit kits is enabling facilities to replace end-of-life circuit breakers with smart devices that enable powerful cloud-based energy management strategies. Just launched in China, the first Megamax – Emax 2 Direct Replacement device is already online at a luxury hotel, installed as part of preparations for the hosting of a major international conference.
Massimo Paganoni, global service manager of ABB's Protection and Connection business, said: "Facilities in China and worldwide are installing these ABB kits because they provide a smart, simple power system upgrade when their old Megamax circuit breakers retire. The Megamax – Emax 2 Direct Replacement is a fast, effective way for facility managers to reduce servicing and energy costs. Innovation from ABB is enabling site owners to retain their existing distribution switchgear, while meeting new demands for more performance, safety and data-driven management."
The response to ABB's Direct Replacement kits has been particularly strong in China. The prestigious Marco Polo Hotel in Xiamen, Fujian province, was the first of more than 20 locations in China to introduce ABB's new retrofit system in the first three months after launch. The ingenious kit preserves the hotel's existing electrical installations, upgrading only the circuit breaker hardware.
Mr. LinGuo Shen, the hotel facility manager, said: "ABB's solution made complete sense: upgrading our site's power control and improving our energy management while keeping our original switchgear. The technical support from ABB in the build-up to a major conference at the Marco Polo was also exceptional."
The Emax 2's integrated power controller measures and evaluates energy consumption at the site in order to manage peak power usage, making peak power reductions of up to 15 percent and significant cost savings possible.
Built-in connectivity with the IEC 61850 communication standard provides an effective way to upgrade existing switchgear to support new micro-grid and smart-grid applications. The kit also makes old switchgear fully compatible with the ABB AbilityTM Electrical Distribution Control System, using data from the Emax 2 sensors and connecting installations to the cloud.
The ABB AbilityTM energy management, supervision and diagnostics functions continuously monitor power consumption, costs and electrical behavior. Users receive alerts and actionable information that enables them to increase plant reliability and boost energy savings by up to 30 percent.
"ABB's solution for legacy low-voltage power systems means zero changes to the original cabinet, giving systems a new lease of life and ensuring stable, continuous operation at a lower cost for the customer," said Raimondo Salandra, local business unit manager of ABB's Protection and Connection business in China. "As older Megamax breakers are retired, the kits provide a direct replacement that retains the original switchboard with installation complete in less than 30 minutes."
First introduced by ABB in the 1990s, the hugely successful Megamax circuit breakers are no longer in production and nearing obsolescence. The retrofitting kit is a cost-effective alternative to a complete switchgear replacement.
Installation requires no dismantling of existing fixed parts and no rewiring of auxiliary circuits. The addition of just one cleverly designed moving part and some simple wiring and safety features is all it takes. The new Emax 2 slots straight into place, maximizing uptime.