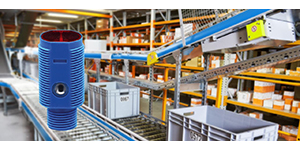 Many of today's industries and applications rely on photoelectric sensor technology. Contactless operation and long sensing ranges are ideal for numerous automation tasks, including in the packaging industry. With an integral IO-Link interface, Contrinex sensors bridge the gap between production machines and the digital world for the future industrial Internet of Things (IoT).
Small, flexible and easy to integrate into different machine environments: all these requirements are met by the new photoelectric sensors of Contrinex's short M18 series. This includes reflex, through-beam and diffuse sensors with or without background suppression. The small plastic housings with M18 diameter are only 33 mm long in the cable version or 37 mm in the connector type. Sensors are embeddable and easy to install even in confined spaces. Background suppression types feature a pinpoint LED and specially adapted optics, ensuring excellent characteristics. All types offer a large sensing range and are protected against crosstalk.
Ready for industrial IoT and one-piece batches
In order to meet the requirements of modern systems, PNP sensors are equipped with IO-Link as standard. This means that a wide range of sensor functions can be controlled or adjusted remotely. Functions range from data monitoring and diagnostics (e.g. wire breakage, undervoltage, receiver interference, installation of the wrong sensor) to remote sensitivity adjustment or teach-in. Remote configuration is also possible for detection counting, sensor temperature measurement, switching timer (delay or stretch) and many other features. Due to this flexibility, M18 sensors are ideally equipped for the industrial Internet of Things and the automation of one-piece batches.