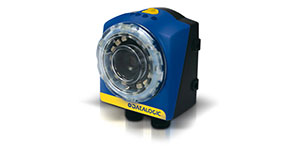 Datalogic, a global leader in Automatic Data Capture and Industrial Automation markets, is pleased to announce two major enhancements in the DataVS2 Vision Sensor product family: new DataVS2 Infrared (IR) models, and the DataVS2 GUI 1.5 Software Release.
DataVS2 IR models feature an embedded powerful LED illuminator with Infrared emission and an ambient light filter eliminating stray light from the surrounding environment.
The combination of the illumination and filter dramatically reduces the influence of environmental lighting influence on the DataVS2 IR. The result is a new DataVS2 IR model with superior inspection reliability and consistency ideal for machine builders and operators.
The 1.5 Software Release introduces several important new functionalities to the award-winning DataVS2 GUI configuration software such as QR-Code reading capabilities, Chinese language support, updated sensor configuration backup and simplified program downloading ('save all').
With the latest hardware and software enhancements, the DataVS2 delivers the unrivalled flexibility and power to solve the most challenging vision sensor applications in industries, from automotive to food & beverage, pharmaceutical to packaging.