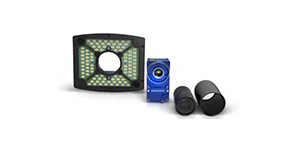 Datalogic, a global leader in Automatic Data Capture and Industrial Automation, announces the release of the Matrix 300, a game-changing addition to the world class family of Datalogic Matrix bar code readers.
Best Performance in Direct Part Mark (DPM) Applications
The Matrix 300™ offers the only embedded illumination designed specifically for the low-angle, high-contrast lighting needs of hard to read bar codes in DPM, on any material type. By encasing the light source in the ultra-compact design, the Matrix 300™ maintains IP67 standards, to outperform the competition in harsh industrial environments
First to Provide Calibrated Dynamic Electrical Focus Control
By pre-calibrating the liquid lens focusing system, the Matrix 300™ provides superior reading performance, at varying distances with amazingly simple setup. This ease of use design is continued by being the only reader of its class to offer Power Over Ethernet option in its Embedded Ethernet and PROFINET connectivity
Ultra-Fast Image Acquisition and Decoding
Datalogic's Matrix 300™ provides work-in-progress traceability solutions and the ability to read 1D or 2D bar codes at very high speeds. This reader performs ultra-fast image acquisition and decoding, meeting high throughput demands.
"As industry leaders, we at Datalogic pride ourselves in being first to provide innovative solutions for our customers real-world applications. The Matrix 300™ meets those goals. With its compact size, unsurpassed DPM performance, and calibrated focus control; this imager will revolutionize automation in markets all over the world, and solidifies the status of the Matrix Product Family as Best-In-Class Bar Code Readers," said Gian Paolo Fedrigo, CEO of Datalogic Industrial Automation.