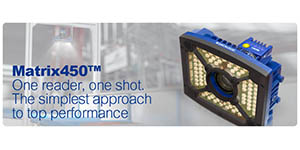 Datalogic Automation is pleased to announce MATRIX 450, 2D Image-based reader dedicated to mid-range applications in the Transportation and Logistic industry.
MATRIX 450™ is an extremely powerful reader, capable to address ID applications never covered before by a 2D Imager.
Features:
-5.0 megapixel CCD sensor
-1.1 GHz core
-512 megabyte of working memory
-Integrated Gigabit Ethernet
-Integrated 96 LEDs illuminator
-Flashing and continuous high-power lighting
-Outstanding decoding libraries
-Real-time image streaming and saving
This product offers superior reading performance, maximum reliability and extreme ease in installation, in use and maintenance. And, it guarantees a fast return on investment and minimum total cost of ownership.
MATRIX 450™ meets the requirements of reading in motion over conveyors. Each single shot – at very high resolution – offers wide coverage, enough to scan the entire practical area over many slot sorters, as cross-belts, tilt-trays, bombay and small-drop systems. Multiple readings are generally not needed, delivering the highest reading throughput and ease of use.
MATRIX 450™ is also the perfect solution for automated identification in manual material handling applications. With high power continuous lighting, white illumination, aiming laser pointers, patented colored spot indicators, http live image mirroring, the MATRIX 450™ is a comprehensive solution for manual scanning in presentation mode for object sorting or conveyor loading/unloading.