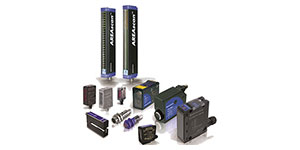 Datalogic, a global leader in Automatic Data Capture and Industrial Automation markets, and world-class producer of bar code readers, mobile computers, sensors for detection, measurement and safety, vision systems and laser marking equipment, announces the availability of the PowerScan 9500 2D imager series for the retail marketplace.
The PowerScan series is the best-selling industrial scanners worldwide. Now, Datalogic extends the success leveraging the industrial strength and durability with a retail version of the renowned PowerScan brand. With rugged mechanics the PowerScan retail series guarantees reliable long-term operation in retail enterprises. Repeated shocks at the POS checkout or outdoor usage do not inhibit the scanner's performance or reliability, protecting the retailer's investment.
This new retail branch of the PowerScan family includes corded and cordless versions. Cordless users can chose from Bluetooth™ wireless technology or the Datalogic STAR Cordless System™. The Datalogic STAR Cordless System version delivers wider radio coverage to meet the demands of POS checkout as well as for inventory or shelf replenishment applications and is available with an optional display and 16-key keypad.
"Our tough industrial PowerScan scanners have proven themselves as the go to scanner for rugged environments," states Giulio Berzuini, General Manager Retail Industry Unit. "We are confident that the ruggedness and quick scanning performance of the new PowerScan 9500 for retail will quickly make it essential at the POS checkout and in retail inventory systems."
The PowerScan 9500 series of handheld scanners are capable of reading digital watermarks, including Digimarc®Barcodes. Digital watermarked bar codes include the same Global Trade Item Number (GTIN) data contained in the UPC/EAN symbol and are invisibly distributed repeatedly across the packaging significantly increasing checkout throughput. Cashiers can scan items quicker without having to search for the bar code or lift bulky items.
Important features of PowerScan 9500 retail series include:
-Outstanding robustness ( 2.0m / 6/6 ft drops) and IP65 sealing rating
-Vertical cradle for presentation mode scanning
-Snappy omnidirectional reading
-Intuitive aiming system
-In-field replaceable window and cradle contacts
-Datalogic 3GL™ (3 Green Lights) technology and loud beeper for good-read feedback
-Datalogic Motionix™ motion-sensing technology
-Ergonomic design
-Interfaces: RS 232, USB COM, USB HID Keyboard, Optional Ethernet
The PowerScan 9500 retail scanner is ideal for use at the POS checkout, shelf replenishment, goods receiving and monitoring inventory.