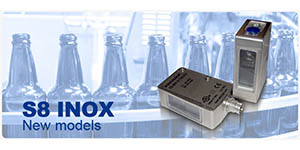 Datalogic is pleased to announce the new contrast and luminescence sensors in the S8 series, with improved resolution, response time and switching frequency.
The new ultra compact S8- W13 contrast sensor has been developed for the detection of colored registration marks on high speed printing and packaging machines. This new sensor reaches 25 kHz of switching frequency, with 10 µs of jitter, comparable to the classic TL series contrast sensors but in a more compact and versatile housing.
In addition Datalogic introduces in the S8 series a luminescence sensor, S8-U, with UV emission, with the same high performance as models developed in the past, in a more compact and industrial housing.
These sensors detect invisible registration marks and UV sensitive materials such as paper, ink, glue, chalk, and gum over 35 mm, ideal for packaging and materials processing machines, as well as in the food and pharmaceutical industries for the detection and the inspection of luminescent targets during processing and packaging.
The S8 series are available in stainless steel housings with IP69K protection, which are resistant to the corrosive action of industrial detergents used in cleaning of machinery, or in plastic versions for the most common applications that do not require frequent high-pressure wash-downs.
The extreme versatility of the S8 series led Datalogic to develop two new dedicated mounting brackets: one allows to replace the miniature sensors with an S8 model, improving the detection performance, and another to replace the contrast and luminescence sensors, TL46 and LD46, or similar products of the competitors, in the case of simple applications of colored or UV-sensitive mark detection.