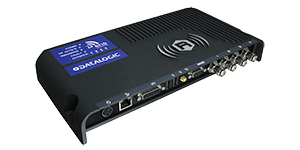 Datalogic, a global leader in the automatic data capture and process automation markets, is pleased to introduce the UHF DLR-PR001 Radio Frequency Identification (RFID) portal reader, a product designed to complement and extend the capability of Datalogic RFID product family.
The significant advantage of RFID devices over bar codes or a magnetic strips is that the RFID device does not need to be positioned precisely relative to the scanner, and works within a few feet (up to 20 feet for high-frequency devices) of the reader. While RFID had previously been focused on lower frequencies where the technology was cheaper, the advantages of the UHF frequency spectrum started to be employed in the early 1990s. Indeed, RFID technology has been available for more than fifty year but only recently has come into common use because of the lack of standards in the industry of the past.
A milestone in RFID history occurred in January 2005, when Wal-Mart required its top 100 suppliers to apply RFID labels to all shipments.
Datalogic has been studying, releasing and producing RFID readers for a long time, realizing that this technology will replace the barcode one very soon.
As highlighted by several market research, the global RAIN RFID solutions market is currently driven by the apparel and footwear segments. One of the key goal for retailers and merchandise outlets is to ensure better inventory management. Thereby, leading apparel and footwear manufacturers have been incorporating RFID tags into their products before shipment. Many more market segments are intensively investigating the improvement of efficiency by using RAIN RFID technology: healthcare either for medicine tracking and anti-counterfeiting; logistics and airport for parcels and baggage tracking and retrieval; manufacturing for quality tracking of critical parts.
Datalogic, whose cutting-edge solutions help to increase the efficiency and quality of processes in the Retail, Manufacturing, Transportation & Logistics and Healthcare industries, along the entire value chain, conceived this innovative product thinking of the many applications in which its customers would have use it:
-Retail Non-food: product in-store localization, real-time inventory and security check out for apparel, footwear and accessories.
-Manufacturing: automatic detection on conveyor, work-in-progress, machine replenishment / configuration, component tracking and quality control
-Healthcare: track medical devices/instruments and drugs
The DLR-PR001portal reader supports up to 16 antennas, allowing unparalleled flexibility and performance in a compact, rugged form factor. It does not require an external PC, but is based on embedded hardware architecture. The Linux operating system allows to make easy development of custom software and solutions. A variety of connection options including Ethernet, USB 2.0 host ports and optional GPRS communication consent easy integration into infrastructures and a lower total cost of ownership.
UHF DLR-PR001 main features are:
-EPC Class 1 Gen 2 and ISO 18000-6C compliant with the latest RFID standards
-4 antenna ports can connect 4 antennas directly and up to 16 with optional multiplexers
-Linux Operating System
-Ethernet connectivity
-USB 2.0 high speed host port for fast and reliable connection to host