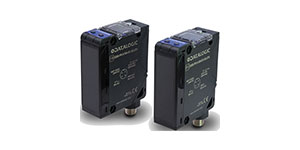 Datalogic Automation introduces the new S300-F/G-SG-ST2/ST4 series, advanced line of safety photoelectric sensors in a MAXI shape, the suitable solution for critical applications thanks to the excellent performances and resistance to the hard conditions of use.
The new S300-F/G-SG-ST2/ST4 series is available in Type 2 and Type 4 models with through beam optical function up to 50m for Type 2 models and up to 40m for Type 4 models. All models are equipped with M12 4-pole connector on both TX and RX units : no terminal block models are foreseen. Together with standard models DEFOGGING MODELS with heated front glass are available for applications where sudden changes of the temperature in the nearby of the sensor are causing condensation.
The new S300-F/G-SG-ST2/ST4 series are certified and must be used only together with SG-BWS-T4 and SG-BWS-T4-MT control units : neither technical and functioning compatibility nor certification are guarantee if using S300 with other brand control units or old DATALOGIC AUTOMATION control units.
Remember also that S300-F/G-SG-ST2/ST4 are the replacement of the obsolete S30-F/G-ST2/ST4 series that have been discontinued at the end of 2009.