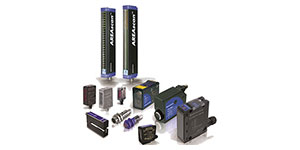 Datalogic Automation introduces the new S3Z models, advanced optic function for transparent detection, the suitable solution for critical applications thanks to the excellent optical performances.
Description:
The new S3Z models improve and enlarge the currently lines a product easy to use and install.
The new models offers a coaxial optic path in a retro-reflex polarized function up to 2 meters of operating distance; all models are available with metal M8 connector or 2 meters cable version and sensibility adjustment trimmer in order to simplify and speed up the setting procedure; available also models in PNP or NPN outputs and DARK functioning mode.
The coaxial optic guarantees an excellent reading performances on the transparent materials like PET bottles, plastic films as well as GLASS, it permits also to fix the sensor in both the horizontal and vertical way and to eliminate completely the problem of the blind zone typical of the bi-axial optics.
Highlights:
-0-2 meters operating distance
-Coaxial optic in a retro-reflex polarized function
-Excellent reading performances on the transparent objects
-PNP or NPN outputs
-DARK functioning mode
-IP67 mechanical protection
Features & Benefits:
-EXCELLENT READING PERFORMANCES to guarantee high product function reliability and to improve the plant productivity
-COAXIAL OPTICS to improve the adaptability of the sensor to the machine and speed up the fixing phase
-SENSIBILITY ADJUSTMENT TRIMMER to simplify the setting procedure
-METAL M8 CONNECTOR OR 2 METERS CABLE to improve installation capability, adapting the sensor to the mechanical parts of the application
-IP67 MECHANICAL PROTECTION to guarantee high product reliability
Market sectors:
-Beverage & bottling
-Cosmetics, Pharma & Food packaging line
-Labelling