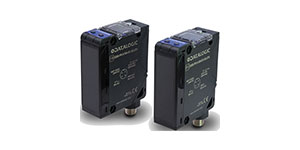 Datalogic, a global leader in Automatic Data Capture and Industrial Automation markets, and world-class producer of bar code readers, mobile computers, sensors for detection, measurement and safety, vision systems and laser marking equipment, announces the new S65-M time of flight sensor, a breakthrough in background suppression technology.
The S65-M is an unprecedented combination or long range background suppression, user safety, ruggedness, and cost effectiveness all in one sensor. Using light Time of Flight (TOF) technology, the S65-M can easily detect objects at a distance up to 5m and is ideal for precise and reliable detection applications. At its core is innovative System-On-Chip technology that delivers extreme performance in an ultra-compact housing.
Packaged within the S65-M is an infrared LED emission system. The use of IRLED delivers valuable cost and safety advantages when compared to competitive laser products. Unlike laser devices, IRLED requires no special safety labeling or procedures, making the S65-M safe for all environments. Also included is an embedded green LED pointer. The LED pointer makes sensor alignment quick and easy.
The S65-M offers multiple communication interfaces. Choose from NPN, PNP, or IO-Link. Applications include presence of medium and large sized objects on conveyors, object detection in problematic backgrounds, positioning for palletizing, level detection for liquids and objects, and much more.