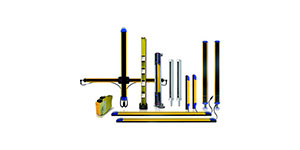 Datalogic Automation is pleased to announce the introduction of SG BODY the New Family of Datalogic Automation Safety Light Curtains for body protection and access control able to rapidly and effectively solve all the industrial safety applications mainly in automotive field, packaging and material handling.
SG BODY perfectly combines vanguard technology, extremely high performances and DATALOGIC distinctive SAFEasy™ concept.
SG BODY is formed of two product series that offer different application solutions:
-The SG BODY "BIG": Type 2 and Type 4 safety light curtains with heavy duty profiles for extreme high robustness , performances and reliability.
-The SG BODY "COMPACT": Type 2 and Type 4 safety light curtains with compact profile for applications where reduced dimensions and easy to use device is required.
Both series of SG BODY safety light curtains present fully embedded electronics and do not require programming of the safety functions that are fully integrated and DIP SWITCHES selectable.
The SG BODY family drastically reduces the overall plant costs (components, cabling and configuration) thanks to is extremely installation easiness.