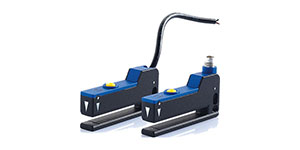 Datalogic is proud to announce the release of our new SR23 fork sensor series. With its 50x5 mm slot size, the SR23 series is ideal for thick, multi-layer and booklet label detection used in the food and pharmaceutical industries.
These industries are implementing increasingly sophisticated labelling and packaging systems, and Datalogic's SR23 series solves challenges such as high-speed applications due to its 12 kHz switching frequency and space restrictions due to its compact metal housing with IP65 protection.
The new SR23 family distinguishes itself through its ability to offer dynamic or static procedure setting options, available even via remote input, and its universal mounting with M5 threaded hole, Ø5x8 slotted hole, and dovetail guide.
Reinforced accuracy is guaranteed by a narrow light beam and infrared LED emission (850 nm) with optic resolutions up to 0.5 mm on different film label materials.
Datalogic's new fork sensor series offers a complete range of models, with cable or M8 4-poles connector versions, and NPN or PNP outputs.
The high-performing SR23 series is one of the most competitive product ranges of its kind available in the market today, solving even the most difficult challenges of automatic packaging machines and print and apply systems.