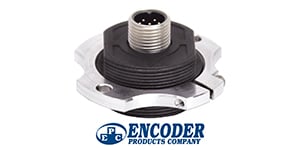 The all new Model 30MT is a compact magnetic encoder module designed to work in even the harshest conditions. With a threaded housing for easy installation, the Model 30MT is a versatile, compact solution for many applications.
Designed for tough industrial environments, the Model 30MT offers sealing up to IP69K and is virtually impervious to dust, dirt, and moisture. The Model 30MT features a chemically inert, high-temperature nylon composite housing, as well as non-contact magnetic sensing. The encoder is capable of operating in temperatures from -40º C to 120º C and features a threaded housing for easy installation. With a generous sensor-to-magnet air gap of 0.022", the Model 30MT holds ratings of 100g @ 11ms for shock and 20g @ 10 to 3000 Hz for vibration.
High Performance Magnetic Sensing
Even with its tough housing, the Model 30MT features advance signal processing circuitry, which allows for a wide sensor-to-magnet air gap while still providing excellent waveform symmetry and repeatability, delivering signal accuracy exceeding that of many magnetic encoders.
Suitable for high-performance applications, the Model 30MT offers:
-A threaded housing for quick and easy installation
-Sealing up to IP69K
-Resolution up to 1024 CPR
-Maximum frequency of 350MHz
-Optional index channel with quadrature
-Four output types
-An 8-pin M12 connector
Applications:
The Model 30MT is a versatile, cost-effective solution for non-contact, end-of-shaft rotary feedback in commercial, industrial and non-industrial applications.
-Servo or stepper motor control
-Mobile equipment speed and steering sensing
-Timber processing machinery
-Studio and stage equipment
-Solar panel positioning
-Vending machines
-Rotary valve positioning
-Punch presses
-Robotics
For more information, or to learn how the Model 30MT can fit into your application, contact EPC today. 1-800-366-5412. When you call EPC, you'll talk to real engineers and encoder experts for your toughest encoder questions. Give us a call.