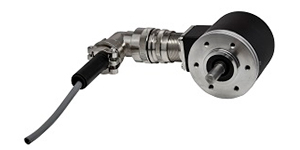 If you've got a rotary encoder application where space constraints or cable routing requirements don't allow for a straight connector, we have the solution: Encoder Products Company now offers 90-degree Mil-Spec style mating connectors. These connectors feature a 90-degree elbow and are available in 6-pin, 7-pin and 10-pin configurations.
In stock and available for shipment, the 6-pin, 7-pin, and 10-pin 90-degree mating connectors can be ordered separately or included in a cable assembly. Cable assemblies can be configured to a specified length and with the proper Accu-Coder™ pin-out.
Call EPC today to order your 90-degree mating connector:
080533 - 6-pin MS type, 90° (MS 3108E 14S-6S)
080534 - 7-pin MS type, 90° (MS 3108E 16S-1S)
080535 - 10-pin MS type, 90° (MS 3108E 18-1S)
For more information about EPC mating connectors, cable assemblies, visit the Accessories page on our website. Looking for an EPC distributor in your area? We can help!