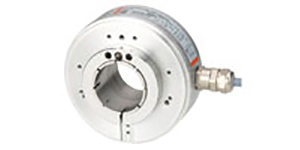 Whether for controlling the speed and position of drives or for shaft copying or monitoring overspeed limiters, encoders are at the very heart of sensor technology in the world of lifts.
In order to serve the particular requirements of lift engineering, Kübler has designed and implemented a comprehensive selection of products - based on its very wide range of encoders - with "plug and play" versions providing connectors with cables suitable for all current lift controls, so allowing simple error-free installation and servicing. It is worth noting the long service life of the devices thanks to their high shock and vibration resistance, a high protection rating up to IP67 and a wide temperature range of -30°C to +85°C. During installation their sturdy bearings, short-circuit proof outputs and reverse connection protection ensure they remain unaffected by external influences.
The absolute multiturn encoders operate without the need for a reference trip and so offer an interesting low-cost alternative, as no additional reference sensors are required. An additional incremental track means that two units can be replaced by just one.
The particularly compact encoders, with a through hollow shaft, are ideal for lift systems without a machine room.
As well as the encoders themselves, Kübler also offers corresponding accessories for retrofitting and optimal fixing, such as shaft extensions for upgrading handwheels by adding encoders or bearing reinforcement for belt shaft copying systems.
In addition to its sensors, Kübler also offers a wide range of trip counters and hours-run meters - combining the two means that service intervals can be defined with extreme precision.
For controls that are built into classic control cabinets there are versions suitable for DIN-rail mounting. A tip for users: using counters with a 100% duty cycle avoids the need to generate or apply pulses. Here Kübler offers compact tamper-free electromechanical counters, as well as low-cost LCD counters - also with 230 VAC inputs for direct connection.